Immunotherapy
Immunotherapy is a new approach to cancer treatment and a specialty of physicians at Norton Children's Cancer Institute, affiliated with the UofL School of Medicine.
Board-certified and fellowship-trained geneticists, pediatric oncologists and other specialists work together to tailor immunotherapy treatments that can provide new and effective options.
Changes to our genes — especially those that control how cells grow and divide — cause cancer. Some of these genetic changes are inherited and some aren't. Our genetic oncologists and hematologists are at the leading edge of identifying diagnostic methods and treatments based on genetics.
Cancer-causing genetic changes often lead to the appearance of novel proteins that are recognized by our immune cells as foreign. In cancer immunotherapy, the goal is to harness the ability of our immune cells to recognize these cancer-associated proteins and stimulate the immune system to reject or destroy tumors. Immunotherapies can either boost the immune system or train the immune system to attack cancer cells.
The Norton Children's immunotherapy program focuses on combining immunotherapy with conventional cancer treatments. Chemotherapy is used to remove the bulk of the malignant disease, and immunotherapy is added to eliminate any residual cancer cells, which could come back and cause disease relapse if they are left untreated.
William T. Tse, M.D., Ph.D., joined the Norton Children's Cancer Institute team from the Northwestern University Feinberg School of Medicine in Chicago, Illinois. In addition to his groundbreaking research, Dr. Tse brings a clinical focus on using less toxic methods of stem cell transplants. He's found success with reduced-intensity conditioning transplant for children with severe immune deficiency. Patients tend to tolerate the new approach better, effectively rebuilding their immune system and correcting underlying defects.
Dr. Tse currently is working with a team of clinicians and scientists from University of Louisville and Norton Cancer Institute to establish the laboratory capacity to produce clinical-grade immune cells derived from patients and engineered to recognize high-risk leukemia, neuroblastoma and brain tumor cells. Once these immune cells are infused back into the patient, they will find their targets and actively eliminate any residual leukemia and cancer cells. Patients tend to tolerate the new approach better, effectively rebuilding their immune system and correcting underlying defects.
This exciting immunotherapy approach represents a new frontier in the fight against childhood cancer and leukemia.
Available Immunotherapy Treatments
Monoclonal antibodies
Cellular therapies
Interleukins
Interferons
Granulocyte-macrophage colony-stimulating factor
Cancer – 7725
Norton Children's Cancer Institute
Talk to a member of our care team about advanced pediatric cancer care.
---
For Jun Zhao, D.O., becoming a doctor was the perfect intersection of an intellectually challenging profession and a way to do good. "I felt like it was the best thing I could do to give […]
Read Full Story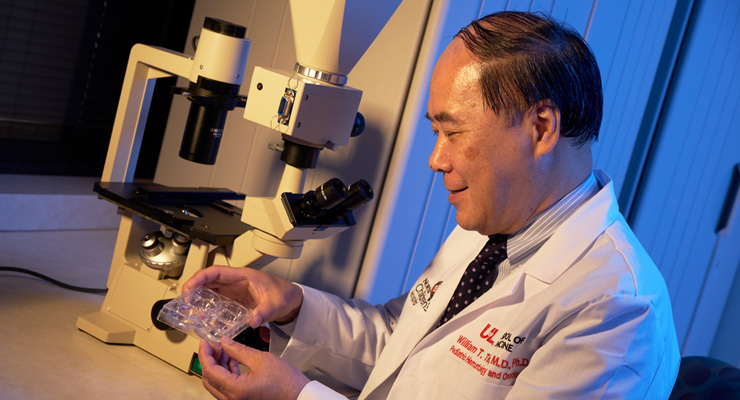 Kids with leukemia in the Louisville area soon will be able to get the next big advance in treatment, a revolutionary immunotherapy known as CAR-T (chimeric antigen receptor T cells) therapy. In CAR-T therapy, a […]
Read Full Story
A new hematologist in Louisville is putting international research to practice for local kids. His specialty: blood and bone marrow disorders such as leukemia and immune deficiency. William T. Tse, M.D., Ph.D., with UofL Physicians […]
Read Full Story
For Jun Zhao, D.O., becoming a doctor was the perfect intersection of an intellectually challenging profession and a way to do good. "I felt like it was the best thing I could do to give […]
Read Full Story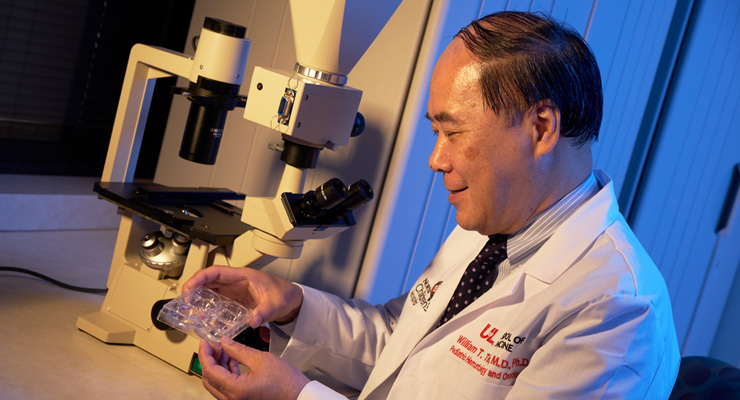 Kids with leukemia in the Louisville area soon will be able to get the next big advance in treatment, a revolutionary immunotherapy known as CAR-T (chimeric antigen receptor T cells) therapy. In CAR-T therapy, a […]
Read Full Story
A new hematologist in Louisville is putting international research to practice for local kids. His specialty: blood and bone marrow disorders such as leukemia and immune deficiency. William T. Tse, M.D., Ph.D., with UofL Physicians […]
Read Full Story