The board-certified pediatric endocrinologists at Norton Children's Endocrinology, affiliated with the UofL School of Medicine, provide specialized care for all types of endocrine disorders, including Type 1 and Type 2 diabetes, as well as growth issues in children and disorders of the pituitary gland, thyroid gland, parathyroid glands, adrenal glands and gonads (testicles and ovaries).
Norton Children's is ranked among the country's top pediatric diabetes programs by U.S. News & World Report.
Experienced providers care for more than 1,500 children and young adults with diabetes each year.
With 10 pediatric endocrinologists and seven nurse practitioners on staff, your child can get an appointment faster.
Diabetes educators, nurses, dietitians, psychologists, social workers, child life specialists, exercise physiologists and nurse practitioners help children and families manage diabetes.
A college and transitional care program is available for teens and young adults ages 16 to 26.
Keep up with your child's lab results, communicate with your provider and schedule appointments with MyNortonChart.
---
Why Choose Norton Children's Endocrinology

"With amazing support from the community, we've been able to stay on the cutting edge to provide the very best for the patients and families we serve. That includes comprehensive pediatric endocrinology care and the Wendy Novak Diabetes Center — the largest and most comprehensive pediatric diabetes center in Kentucky."
---
Our staff of specialist endocrinologists and nurse practitioners are highly trained and experienced in caring for a full range of pediatric endocrinology conditions and helping patients live full lives.
Endocrinology conditions affect the whole family. At Norton Children's Endocrinology, we provide support beyond the exam room with the Type 1 Club for kids, teens and families, and the Christensen Family Sports & Activity Program.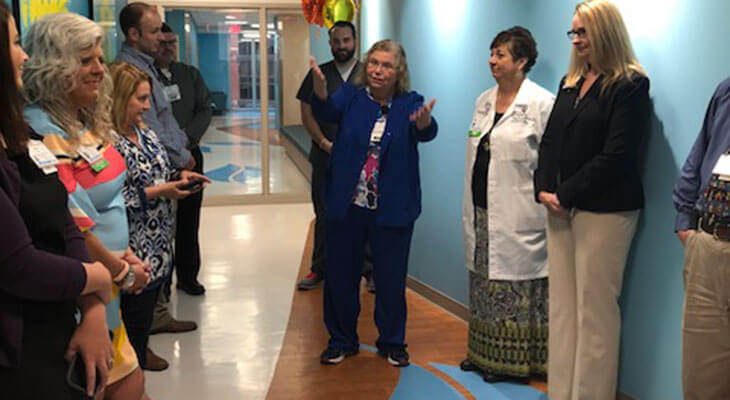 Norton Children's Endocrinology is located in the Novak Center for Children's Health in downtown Louisville, Kentucky.