Heart patients moved into the new Jennifer Lawrence Cardiac Intensive Care Unit (CICU) at Norton Children's Hospital. What does a CICU offer the community?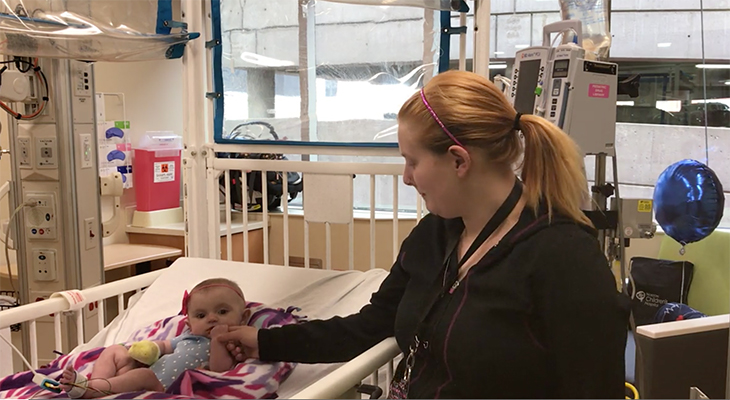 The first patients have moved into the Jennifer Lawrence Cardiac Intensive Care Unit (CICU) at Norton Children's Hospital.
The cardiac intensive care unit was designed just for their care, with the newest equipment and highly trained, experienced staff dedicated to treating heart conditions.
Children born with congenital heart disease can be some of the most critically ill patients, with many needing complex medical care soon after birth.
Most children with congenital or acquired heart disease will need surgery during infancy and early childhood. Additionally, most require lifelong follow-up as they grow into adulthood.
What happens in a CICU, and why is it important for children and families in Louisville and the surrounding region in Kentucky and Southern Indiana?
What is a CICU?
In many hospitals, children with heart conditions receive care in general pediatric intensive care units. A CICU, however, is a specialized hospital inpatient unit especially for babies, children, teens and young adults who are critically ill with heart conditions. Additionally, adults who were born with a congenital heart condition are treated in a CICU. The unit is staffed with cardiac critical care providers, including dedicated nursing staff and other professionals focused solely on heart care. Research shows that care in a CICU can improve a child's recovery — and provide a better experience for patients and their families.
With the Jennifer Lawrence Cardiac Intensive Care Unit at Norton Children's Hospital, there is the ability to help the sickest patients in our region achieve even better outcomes.
"It's been shown that a dedicated pediatric CICU that has its own devoted staff and specific policies and protocols helps with earlier extubation [breathing tube removal], faster recovery and lower complications; all leading to getting the patients home safely faster and more efficiently," said Bahaaldin Alsoufi, M.D., director of pediatric cardiac surgery for Norton Children's Heart Institute and a cardiothoracic surgeon with UofL Physicians – Cardiovascular and Thoracic Surgery.
Norton Children's has used a multidisciplinary cohesive team for many years, pulling together the expertise of cardiologists, cardiac surgeons, critical care providers, cardiac anesthesiologists, nurses, respiratory therapists and other professionals focused solely on heart care.
"We now have the physical space to concentrate all this expertise and do what we do best —mend children's hearts," Dr. Alsoufi said.
A legacy of pioneering heart care
Norton Children's Hospital's dedication to create the new cardiac unit builds upon a legacy of specialized pediatric heart care in Louisville. The hospital performed Kentucky's first pediatric open heart surgery, and in 1986, it was the second site in the country to perform a successful infant heart transplant.
More than 5,000 children a year visit Norton Children's Heart Institute, affiliated with the University of Louisville, for specialized heart care. More than 17,500 procedures performed annually include open heart surgeries, catheterizations, electrophysiology and noninvasive tests, such as echocardiograms.
New CICU provides advanced technology and a place for families to heal together
The Jennifer Lawrence CICU was planned with patients and heart care of the future in mind. Children recovering from heart procedures, including open heart surgery and heart transplant, or who have heart failure or other conditions requiring intensive heart care, can have long stays in the hospital. The unit has private rooms, with private bathrooms and showers, offering families comfort, privacy and ability to be with their child as much as possible.
At 5 months old, Addisynn Seay was the first patient to move into the new Jennifer Lawrence CICU. She was born with a complex single ventricle congenital heart defect and underwent her initial palliative surgery, the Norwood procedure, on Aug. 9, 2019. She is currently undergoing treatment in preparation for her second stage surgery, the Glenn procedure, scheduled later in January.
Norton Children's Heart Institute
Call for an appointment.
"For Addisynn to be the first one to come over here and experience the cardiac intensive care unit is pretty big for her. She's been through a lot, so for her to do this is truly an honor," Addisynn's mom, Summer Seay, said. "It's so much greater. You have privacy, your own bathroom. The privacy is great."
The unit also is equipped with the newest technology available for heart care, including ventricular assist devices (VADs) and extracorporeal membrane oxygenation (ECMO), an advanced medical technology that provides heart and lung bypass. A cardiac intensive care doctor is present in the unit 24 hours a day, seven days a week, should a child need emergency evaluation.
The unit was made possible through a $2 million gift from Louisville native Jennifer Lawrence, along with a challenge to the community to support the initiative. Brave Hearts, a support group of families united by their children's fight to overcome complex congenital heart defects, is one group that participated in fundraising for the CICU. This challenge resulted in more than $4 million raised through the Norton Children's Hospital Foundation to support the project.
CICU provides a team of highly trained heart specialists –– available for your child
Children in the Jennifer Lawrence CICU will be under the care of a team of providers who specialize in the care of critically ill children with congenital and acquired heart disease.
While in the CICU, your child may be cared for by:
Pediatric cardiothoracic surgeons
Pediatric transplant surgeons
Pediatric cardiologists

Fetal cardiologists
Adult congenital heart cardiologists
Heart failure/heart transplant cardiologists
Pediatric cardiac catheterization cardiologists
Pediatric electrophysiologists

Pediatric critical care physicians
Cardiovascular anesthesiologists
Cardiac critical care nurses
Cardiac nurse practitioners
Critical care pharmacists
Child life therapists
Diagnostic imaging specialists
Dietitians
Family support team
Genetic counselors
Psychologists
Respiratory therapists
Social workers
A nurse clinician also will be available for families in the CICU to help coordinate the very complex care and to help families understand their care and prepare for life outside of the CICU.
"This is going to be an excellent space for us," said Deanna R. Todd Tzanetos, M.D., medical director of the Jennifer Lawrence Cardiac Intensive Care Unit and critical care physician with UofL Physicians – Pediatric Critical Care. "We've had the team — the physician staff and all of the resources have been at Norton Children's Hospital for a while now, but now we have a physical space that is a great representation of the entire team and the care we deliver."
---