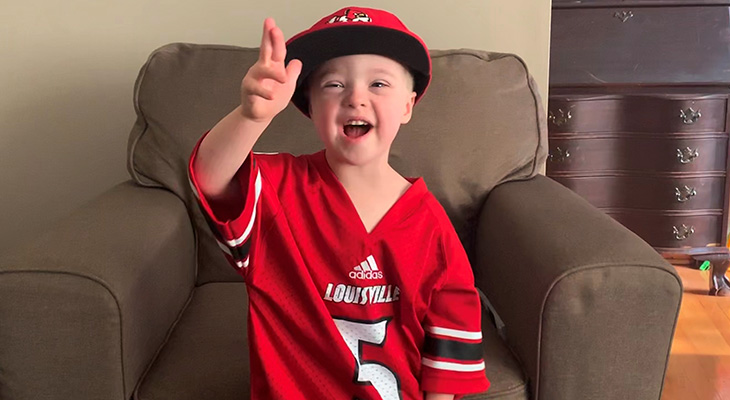 Four-year-old Allen Norton is a ball of energy. He loves dancing, singing, eating ice cream and being active outside. Most of all, he loves the University of Louisville Cardinals. Just ask him and he'll throw an "L" up and say, "Go Cards!"
Allen has an extra chromosome that caused Down syndrome. He also has a heart defect that required surgery when he was just 9 months old.
"When I was 16 weeks pregnant, I wasn't feeling well and went to my obstetrician," Allen's mother, Mary Beth Norton, said. "They did an ultrasound that found Allen had a heart defect — two holes in his heart. Just a few weeks later, a blood test confirmed Down syndrome."
Fetal echocardiograms at Norton Children's Heart Institute, affiliated with the University of Louisville, helped specialists closely monitor Allen's heart and let his family know what to expect.
"You go through every emotion — mad, sad and wonder why. But when he was born he had 10 fingers and toes and looked like any other baby," Mary Beth said.
Pediatric cardiologists with Norton Children's Heart Institute determined Allen did not need immediate surgery, but they would need to watch him closely. One of the heart defects was an atrioventricular septal defect (AVSD).
See Allen at the Clemson vs. UofL game
Allen will lead the University of Louisville marching band as it plays the UofL fight song at halftime Oct. 19.
"An AVSD means there are holes in between the right and left sides of the heart," said Brian J. Holland, M.D., chief of pediatric cardiology at Norton Children's Heart Institute and pediatric cardiologist with UofL Physicians – Pediatric Cardiology. "In this heart condition, extra blood flows through the holes and to the lungs, causing extra work for the heart.  Eventually the heart can't keep up and the only way to fix it is with surgery."
At 6 months old, Allen started to get tired very easily. His speech and physical therapists noticed he didn't have the endurance he once had. He underwent a heart catheterization at Norton Children's Hospital, which revealed that one of the holes in his heart had closed, but the AVSD was large. Allen would need surgery sooner rather than later.
Norton Children's Heart Institute
No other pediatric heart program in Kentucky or Ohio is ranked higher by the Society of Thoracic Surgeons. Talk to a staff member about how your family can get quality care in Kentucky and Southern Indiana.
"We repair an AVSD by patching the holes during an open heart surgery," said Erle H. Austin III, M.D., pediatric cardiothoracic surgeon with Norton Children's Heart Institute and UofL Physicians – Cardiovascular and Thoracic Surgery. "If there are issues with the valve, we also either repair it or replace it. The long-term prognosis is good, but a child may need additional valve repairs down the road."
Allen will continue to see his pediatric cardiologist once a year to ensure his heart is continuing to function properly.
"Ever since the surgery he has been a healthy, thriving kid," Mary Beth said. "Having a child with a disability can be challenging, but he has been awesome. He is just like any other 4-year-old boy. He isn't any different to us."
---