'We can give hope to our patients that at Norton they will find people who are dedicated to helping them.'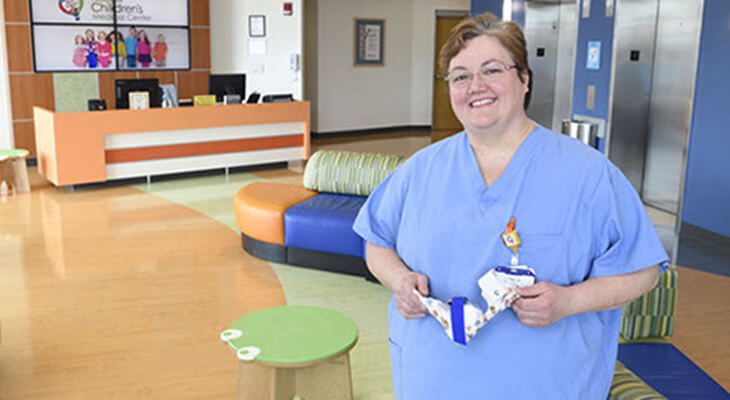 Doing what comes naturally — going the extra mile for a patient — led Mary Jo Irvin to earn the lasting loyalty of a local family.
Mary Jo, a surgical technician at Norton Children's Medical Center, helped care for a young girl who had a condition that caused her muscles to contract. The girl wore leg braces to allow her to move around more easily.
And the little girl moved a lot! An active, energetic child, she loved playing outside with her friends and neighbors. That meant her braces got very dirty and quickly deteriorated.
One day she came to the medical center for her regular treatment — injections of a relaxant into her muscles — and Mary Jo was asked if she could clean and repair the girl's leg braces while she was being treated.
"I remember the day quite well," Mary Jo said. "Oh, my, the braces were a mess; filthy and only held together by duct tape."
Norton Children's Medical Center
In eastern Jefferson County and minutes from southern Indiana on the Lewis and Clark Bridge, pediatric emergency care and all the expertise of Norton Children's Hospital.
She spoke to the girl's grandmother and learned that, although new braces had been ordered, they wouldn't be delivered for a while. That was all Mary Jo needed to hear.
"I told her I would do my best to fix the braces so her granddaughter could continue leading the active life she loved," she said.
Mary Jo got resourceful and went to work on repairing the tattered braces. First, she very carefully cleaned them. Then, she searched the facility and found new brace straps and Velcro for support and some casting tape for extra cushioning. Using those materials, Mary Jo painstakingly mended the worn braces. When she was finished, she presented the newly restored braces to the girl's grandmother, who was overjoyed.
"Her grandmother hugged me and just kept thanking me for all our hard work," Mary Jo said.
Mary Jo is quick to credit her facility's compassionate culture for bringing joy to the little girl's family.
"Helping that little girl and her grandmother is one of many reasons I love my job," she said. "We can give hope to our patients that at Norton they will find people who are dedicated to helping them. What we were able to do for that child isn't unusual. All our staff here at Norton Children's Medical Center provide this kind of care every day!"
---