Norton Children's Prevention & Wellness doubles down on obesity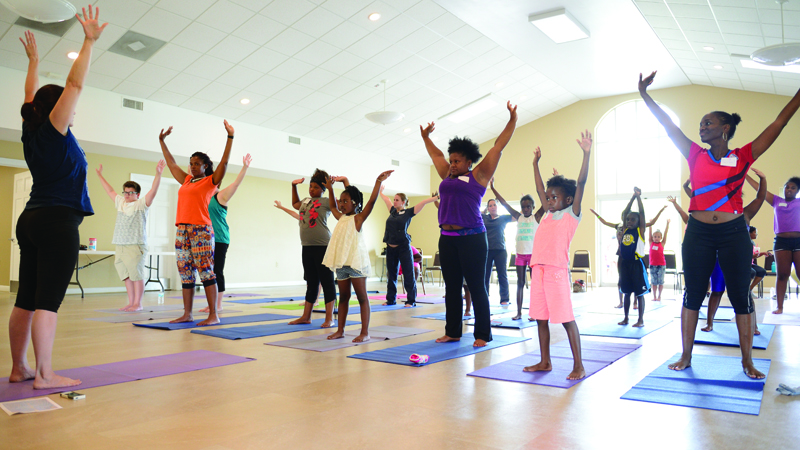 Childhood obesity is a serious issue in Kentucky, where nearly 20 percent of kids ages 10 to 17 are obese. The bluegrass state ranks third in the U.S. in percentage of obese high school students. Norton Children's Prevention & Wellness, supported by the Children's Hospital Foundation, has been closing the gap by providing opportunities for fitness and healthy choices to children in our region. They include:
Fruit and Boot Camp
This two-week series is designed to teach parents and school-age kids how to eat right and stay active. Camps were held in June and July at Louisville Urban League, Shively Park Community Center and Norton Children's Medical Center. This year, approximately 60 participants attended the camps. Families enjoyed yoga, hip-hop dance and line dancing classes and prepared smoothies and mango salsa.
Family Scholar House camp
A mini-Fruit and Boot Camp was held at each campus of Family Scholar House, a nonprofit organization offering housing and other support services to single-parent college students and their children. Families were introduced to a new way to get kids active with GoNoodle movement videos and Fit Lit (reading a story while acting it out). Participants prepared and tasted a healthy alternative to ranch dressing using Greek yogurt and herbs. They also prepared and tasted a healthy dessert with Greek yogurt, honey and berries — a kid favorite!
GoNoodle
GoNoodle is an online series of movement videos that includes kid favorites such as Zumba, stretching and mindfulness practices. Passport Health Plan joined with Norton Children's Hospital to make GoNoodle physical activity breaks available to elementary schools in the region. Through this sponsorship, more than 191,000 students in 537 schools have access to a premium version of GoNoodle through the 2017-18 school year.
Kids' Café and Summerbridge wellness education
In summer 2016, the team worked with underserved kids in several area Kid's Cafés as well as Summerbridge, a summer school for middle school students from low-income families. Wellness education was tailored to each age group and covered topics such as understanding the food groups and the power of food advertising. The children designed their own healthy cereal box, and some of the favorites were Hoop Loops (a basketball-themed healthy cereal), Super Grains and Banana Flakes. Each cereal box included a health message and nutrition facts label.
ChopChop Cooking Club
During all community outreach events, families and kids were introduced to the ChopChop Cooking Club — a free online cooking club sponsored by Norton Children's Hospital and Kohl's Cares. Families are encouraged to sign up for monthly emails featuring a new recipe challenge. Cooking together is an excellent way to spend time as a family, learn new skills, build confidence and eat healthfully!
Y's Healthy Weight and Your Child
The hospital partners with the YMCA to get the word out to all Norton pediatric practices about the Y's Healthy Weight and Your Child Program, a comprehensive, evidence-based weight management program for families. This year, 33 families were referred to the program by Norton Children's Medical Group pediatricians.
Partnering with pediatricians and specialists
Norton Children's Prevention & Wellness has piloted a health coaching service offered to Norton Children's Medical Group – Broadway patients who are in need of extra support in meeting their weight management goals. It also collaborates with Norton Children's Gynecology for a five-week weight management workshop series for eligible patients. The practice clinicians monitor biometrics and weight change, and the prevention and wellness team leads weekly workshops designed to engage families in setting personal goals and working through barriers to eating healthier and being more active. Each session features a healthy snack and a physical activity component. The series started in September 2016. Plans for 2017 include making the wellness workshops available to all Norton Children's Medical Group patients and partnering with the YMCA to implement the series in spring and fall each year.
Reaching high schools
The team worked with an Atherton High School health teacher and family resource coordinator on planning and implementing six biweekly wellness workshops for freshmen in the fall of 2016. Workshops explored the students' beliefs and motivation around wellness and challenged them with personal goals. Topics covered included goal-setting, nutrition, physical activity, sleep, stress management and a social media campaign project. A tobacco control project is underway with Pleasure Ridge Park High School students who are working on a media campaign to encourage teens to be tobacco-free.
For more information on any of these programs, call Norton Children's Prevention & Wellness at (502) 629-7358.
---