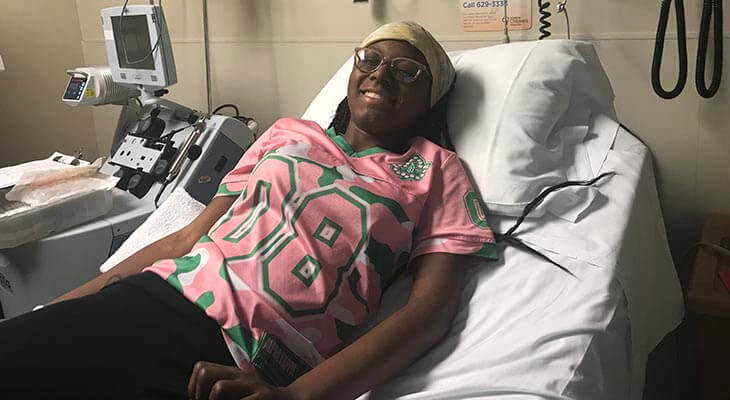 Jalen Matthews is a 20-year-old junior at the University of Kentucky. She is a kinesiology major who aspires to a career in physical therapy. She's active in her sorority and the student activity board. And, she has sickle cell disease.
In the 1970s, the average life span for a person with sickle cell was 14 years old. Now, many people are living a long and full life with the congenital blood disorder, but finding ongoing follow-up care can be a concern for some of these adults.
Sickle cell causes Matthews to miss a lot of class because there isn't a clinic in Lexington that provides apheresis or red blood cell exchange treatment. Every six weeks, she drives to Louisville for apheresis, which removes the sickle cells in her blood and replaces them with normally shaped red blood cells. Her entire weekend is dedicated to the red blood cell exchange treatment, from blood work on Friday to the five- to six-hour transfusion on Monday. She spends the time catching up on sleep or doing homework.
"I can't do some things like my friends do," Matthews said. "They can stay up late and hang out, but I really need my rest. I have to drink a lot of water and eat right to stay healthy."
About sickle cell disease
People with sickle cell disease have red blood cells that are curved, or sickle-shaped, and cannot bend. They are more likely to stick to vessel walls, which can slow or stop vital blood flow.
The lack of oxygen can cause a sudden, severe pain attack called a "crisis." Most children with sickle cell are pain-free between crises, but adolescents and adults may experience chronic pain, according to the National Heart, Lung and Blood Institute.
Transitioning from pediatric to adult care
Since her diagnosis as a baby, Matthews has received red blood cell exchange treatments at Norton Children's Hospital Infusion Center through Norton Children's Cancer Institute and been cared for by Ashok B. Raj, M.D., with UofL Physicians – Pediatric Cancer & Blood Disorders.
In 2017, as a young adult, it was time for Matthews to graduate to a new phase of care. Through an emerging partnership between Norton Children's Cancer Institute and Norton Cancer Institute, she graduated to care under Shawn Glisson, M.D., at Norton Cancer Institute.
She also continues to be treated by many of the same nurses who have provided her care over the past two decades through the Norton Children's Hospital Infusion Center. During her treatments, nurses and staff stop by her room to check on her and say hello.
"I had a smooth transition," Matthews said. "It makes me feel more comfortable that I know everyone. I knew Dr. Glisson from seeing him during previous visits; I had seen all of their faces, so that made it easier. They already know what I need when I come here."
Find out more
Norton Children's Hospital is the only place in Kentucky, and one of only a few locations in the country, to provide automated red cell exchange for children. It also provides care for adults, creating a solution for patients and families who seek lifelong care. Call (502) 629-7725 to speak with a nurse navigator about the program.
This is one of the main goals of the newly formed Norton Children's Cancer Institute affiliated with the University of Louisville. Combining with resources from Norton Cancer Institute, the program is able to provide cancer and blood disease care for patients throughout their lifetime in a way that meets their needs at every stage of life.
"I have known Jalen as a patient for 17 years," Dr. Raj said. "Being able to work with Dr. Glisson to transition her care in a seamless way is something as a clinician we always know is the best scenario for great future outcomes."
Focus on the future
Given that Matthews has experienced a childhood filled with countless doctor visits, transfusions and regular assistance from her parents, she is looking forward to life as an independent adult. She would like to move to Atlanta for graduate school in a few years. She's already done research to find a clinic to continue her care, an added consideration for her condition. She had reservations about moving so far away but now feels ready for the change.
"I'm ready to start my life," Matthews said. "I want to explore the world on my own."
---