Ashley Eastman, R.N., nurse clinician for Norton Children's Heart Institute, understands the journey of a child with congenital heart disease because she lived it.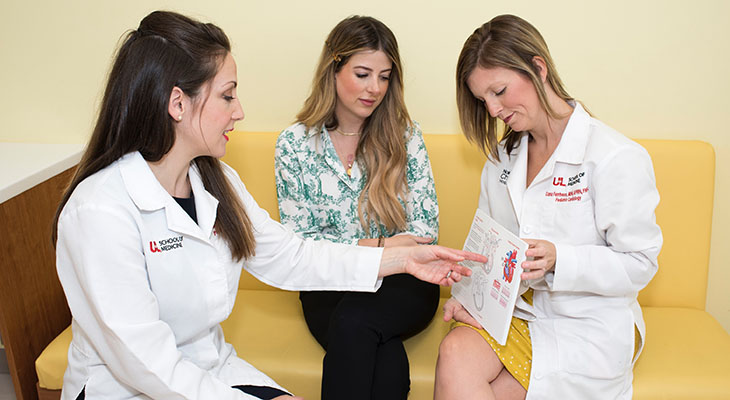 When Ashley Eastman, R.N., has an appointment to monitor her adult congenital heart disease (ACHD), she simply leaves her desk, walks to the front desk, checks in, and waits to be called. As a nurse clinician for Norton Children's Heart Institute, affiliated with the UofL School of Medicine, she understands the journey of a child with congenital heart disease. Diagnosed with a bicuspid aortic valve, she had her first heart surgery at the age of 15. She now helps navigate children and their families through their heart journey, as they prepare for procedures and surgeries.
Growing up with congenital heart disease and building a nursing career
Ashley grew up and went to school in Elizabethtown, Kentucky. As she grew, she saw physicians including pediatric cardiologists Walter L. Sobczyk, M.D., and Lucinda T. Wright, M.D., at a  satellite clinic of Norton Children's Heart Institute. At 15, she had surgery to repair an aortic aneurysm. The surgery would inspire her and put her on a path to serve other families.
"The aortic aneurysm repair was a result of my valve issue," Ashley said. "It was my first exposure to the medical field. The surgery was done at Norton Children's Hospital, and I was intrigued by the whole operation and being in a hospital. I was really impressed with my nurses; I grew really close to them. It was my first exposure and my motivation to go into nursing."
Ashley graduated from high school and went to the University of Louisville for college to pursue nursing. At first, she thought that cardiology was not the path she wanted to take for her budding nursing career.
"I felt that I had grown up with that experience, I had more or less 'done that.' I wanted to try something else," Ashley said. "As we were taking our clinical courses, cardiology was just so natural to me. I was just great at it and I already had such an understanding of complex congenital heart issues. My professors and peers said to me, 'You should really go into this.' I have a skill, and it felt like the ultimate path for me."
As she began her career at Norton Healthcare, she worked with adult heart patients in the intensive care unit and open heart recovery as they recovered post-surgery.
"It was one of my favorite jobs I've had," Ashley said. "And while I wasn't always working with adult congenital heart disease patients, I did care for some ACHD patients who would transfer to Norton Children's care after their surgery."
Ross Procedure and finding a career at Norton Children's Heart Institute
In 2018, Ashley came to another crossroads in both her personal and professional heart journeys. She required a new aortic valve as she was being recruited to work at Norton Children's Heart Institute. She scheduled a Ross procedure to replace her aortic valve, and shortly before her surgery she began the process of interviewing for a role with Norton Children's Heart Institute.
"They had reached out to me right before my second operation and told me that there was a position open as a nurse clinician and they wanted me to apply," Ashley said. "They had recruited me for pediatrics because of my knowledge and skill sets with the community of patients. So after my surgery, I went on interviews for the job I have now, and the rest is history."
In her role as a nurse clinician, she works as part of the Norton Children's Heart Institute cardiac catheterization team. She works alongside pediatric cardiologists Edward S. Kim, M.D., and Joshua Kurtz, M.D., helping children and families prepare for and navigate through minimally invasive procedures, as well as hybrid procedures, in which a child is treated simultaneously by a catheterization cardiologist and a heart surgeon. She helps get procedures scheduled and supports patients and families before, during and after the process. While she doesn't usually share that she has had several heart procedures, if she sees a patient or family struggling, she offers her story to see that great outcomes are right in front of them.
"Parents have a lot of questions and concerns about surgery, and how that progresses," Ashley said. "And I'm really able to explain that to them from a nursing perspective and from a patient perspective. If I think they will benefit from hearing my story, and there's a door open for that, I usually share."
Ashley acknowledges that the experience of congenital heart disease is usually more concerning to families than to a young child. But, as she has been a patient as an adult, she knows it helps to trust your providers and trust the process.
"Just know that they are in the best hands," Ashley said. "There are people constantly working around the clock to ensure that they have the best patient outcome. Our doctors and staff here take things so seriously, and they really care about the patient and make sure that they will do whatever it takes to get the patient the best care and find comfort. There are people here who care just as much as families do."
Norton Children's Heart Institute
Call for an appointment.
'Congenital heart disease doesn't have to be your identity'
Ashley affirms the struggles that patients and families can go through with congenital heart disease, because she lived it. And she wants children to know that while it can be a tough road, that great things are ahead.
"To go through something like congenital heart disease, you can have so much good come out of it, even though it is a very scary thing," Ashley said. "But, this can be just the beginning of their story, and not the end. Congenital heart disease doesn't have to be your identity. There's so much that lies beyond that, and it makes you have an appreciation for what else is out there for you."
---