When should children get their flu shots in 2021?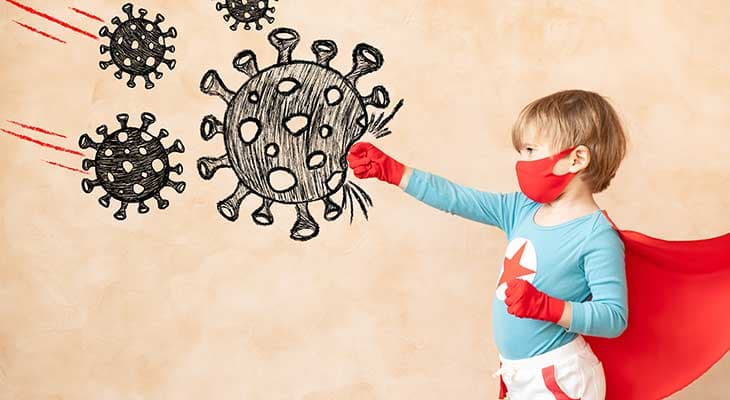 With this year's flu season coinciding with the resurgence of COVID-19, the American Academy of Pediatrics (AAP) will maintain its vaccination recommendations from 2020. In other words, pediatricians urge parents to get their kids' flu shots sooner rather than later.
In the 2021 guidelines, the AAP strongly recommends children receive their flu vaccinations by the end of October. This includes all eligible kids ages 6 months and older.
"This could be a very rough winter for respiratory illness," said Becky S. Carothers, M.D., pediatrician with Norton Children's Medical Group – Broadway. "It's important for children to have protection against the flu before flu season begins, which is usually after Halloween."
According to the Centers for Disease Control and Prevention, 188 children and adolescents under age 19 died of flu complications during the 2019-2020 flu season. Historically, about 80% of children who die from influenza are unvaccinated.
The 2020-2021 flu season showed dramatically different results: Flu activity was unusually low around the world, likely due to quarantines and preventions related to the COVID-19 pandemic.
Get your child's flu shot
Make an appointment at a location of Norton Children's Medical Group that's most convenient to you.
This year's vaccine for children has been updated to address the major strains of the virus expected to circulate this season. Even if the shot doesn't fully prevent the flu, being vaccinated likely will make the illness less severe and go away faster.
Is your child feeling sick?
Being able to identify the flu can help you decide when to visit your pediatrician. When you visit your provider, make sure you're keeping yourself and others safer.
Signs and symptoms of flu can include:
Fever or feeling feverish/chills
Cough
Sore throat
Runny or stuffy nose
Muscle or body aches
Headaches
Fatigue (tiredness)
Vomiting and diarrhea (more common in children than adults)
---