Each year, Bourbon & Bowties honors a child who was cared for at Norton Children's Hospital. Below are the stories of our past honorees.
Charles W. Gant: 2010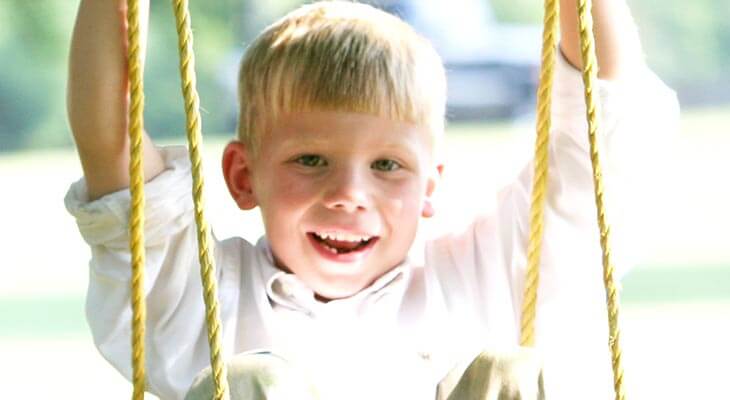 The inaugural Bourbon & Bowties event was held in memory of Charles W. Gant, a loving and energetic 8-year-old boy who passed away from viral encephalitis on June 3, 2009. Charles had a passion for the outdoors — he was a true bug and critter lover. A friend to everyone he met, Charles lived life to the fullest and left behind treasured memories for all who loved him so dearly.
Make a gift to the Express Art Therapy or Child Life Fund in memory of Charles Gant
Laurel Dortch: 2011
The second Bourbon & Bowties event honored Laurel E. Dortch. Laurel was diagnosed at age 5 with a rare childhood cancer called primitive neuroectodermal tumor. She has endured seven surgeries, 14 chemotherapy treatments and 25 radiation treatments. Those treatments were physically, emotionally and mentally grueling, but Laurel was brave and her faith never wavered. Laurel currently is attending Miami University in Oxford, Ohio, and is a member of the RedHawks field hockey team. After graduation, Laurel plans a career in hospital management/administration.
Through The Laurel Foundation, Laurel is very active in raising awareness in the fight against childhood cancer. One of the organizations the foundation supports is Camp Quality, where Laurel is a camper companion. The Dortch family is grateful for the care she received from Norton Children's Hospital, which has made it possible for Laurel to lead an abundant life.
Make a gift to Norton Children's Cancer Institute in honor of Laurel
Maxwell Johnson: 2012
The third annual event honored Maxwell Johnson, who has hemoglobin SC, a mild form of sickle cell anemia. Stephan and Tracey Johnson welcomed Maxwell into the world three months early. He weighed only 2 pounds, 4 ounces at birth, and spent two months in the neonatal intensive care unit (NICU) at Norton Children's Hospital. During that time, Maxwell received wonderful care and compassion from the doctors, nurses and staff.
The Johnson family continues to have a relationship with the hospital, not only because Maxwell receives care for sickle cell anemia, but also because of the great friendships they've developed. These days, the family visits Norton Children's Medical Center when Maxwell is sick or needs immediate care.
The Johnsons are grateful for the extra care they received from the Norton Children's Hospital team in the summer of 2017 while vacationing in Lake Tahoe. Maxwell had complications, and the team from Norton Children's Hospital helped prepare medical staffs in Lake Tahoe and Sacramento, California, to care for him.
Today, Maxwell is a sixth-grader at Kentucky Country Day School and loves a great party, staying up late and outsmarting his sitters. He also has a huge following on his dad's Facebook page. Maxwell is a straight A student and enjoys science, math, playing Fortnite and music.
Make a gift to the neonatal intensive care unit in honor of Maxwell
Owen McMasters: 2013
The fourth annual event honored Owen F. McMasters. Owen passed away Feb. 15, 2016, at age 16, following a courageous four-year battle with leukemia. Owen was a member of the Trinity High School class of 2017, where he was a recipient of the Monsignor Alfred W. Steinhauser Scholarship. Owen had a brilliant mind, a quick wit, a heart of gold and a reputation as the smartest person in the room. He was an avid and skilled gamer and poker player, and he loved snowboarding, tennis and basketball. Owen and his parents were tireless in their support for children's hospitals and a cure for leukemia.
Owen's Make-A-Wish Foundation wish was to stop the critical shortage of chemotherapy drugs so they would be available to all patients who need them. His wish went viral, gained national media attention and proved successful for thousands of cancer patients. He never complained. He never wavered. He never gave up hope.
Make a gift to the Adolescent and Young Adult Program at Norton Children's Cancer Institute in memory of Owen
Anna-Maria Beck: 2014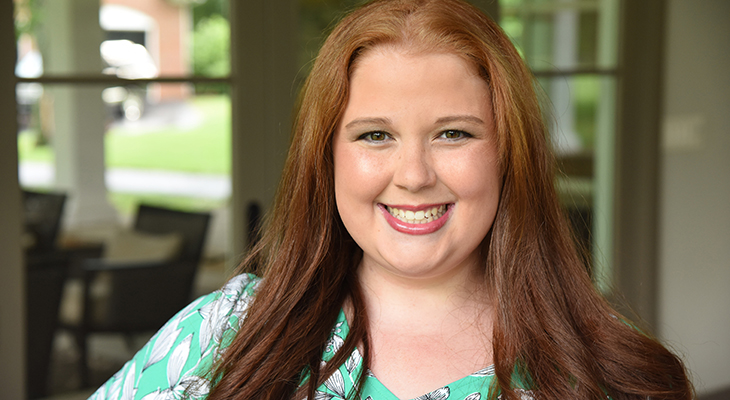 The fifth annual event honored Anna-Maria Beck, who was diagnosed in 2007 with a low-grade brain tumor of the hypothalamus and optic pathways that caused hydrocephalus, a life-threatening collection of fluid in the ventricles of her brain. Since then, Anna-Maria has had 12 brain surgeries, six weeks of proton beam radiation and nine rounds of chemotherapy. She is followed closely by multiple highly specialized physicians at Norton Children's Hospital.
Anna-Maria currently is a student at Bellarmine University. In 2016, while attending Sacred Heart Academy, she launched ValkyrieBEAT, the school's first dance marathon to benefit pediatric cancer patients. It was a huge hit, raising $25,000 with over half the student body attending. Anna-Maria loves all the volunteer opportunities she's had through Norton Children's Hospital and was honored as Kentucky's 2017 Prudential Spirit of Community Awards Volunteer of the Year. Anna-Maria remains an active member of the Bourbon & Bowties committee and currently is serving as a Bellarmine University Dance Marathon board member. She looks forward to participating in more improvements at Norton Children's Hospital.
Make a gift to Norton Children's Cancer Institute in honor of Anna-Maria
Clara and Wilson McGarvey: 2015
The sixth annual event honored twins Clara and Wilson McGarvey. Clara and Wilson were born at 26 weeks weighing 1.5 pounds and 1 pound, 15 ounces, respectively. After their birth, they spent a cumulative total of 178 days in the NICU at Norton Children's Hospital, where they received the expert care they needed to grow stronger and healthier. Today, Clara and Wilson are active and healthy second-graders. Wilson loves music and playing soccer, and Clara loves fairies and ballet. Clara and Wilson's parents, Morgan and Chris McGarvey, are grateful for the care their twins received at Norton Children's Hospital.
Make a gift to the neonatal intensive care unit in honor of Clara and Wilson
Tanner Demling: 2016
The seventh annual Bourbon & Bowties event honored Tanner Demling, who was born with a rare congenital heart defect. After undergoing surgery at Norton Children's Hospital as an infant, Tanner's heart showed no signs of stress until he went into sudden cardiac arrest during a lacrosse practice in 2014. His coach and a nurse from Norton Children's Medical Center performed lifesaving CPR. Tanner has made a remarkable recovery and now has a defibrillator implanted in his chest. He currently is a college student, runs his own blog and serves as an assistant coach for Kammerer Middle School's lacrosse team.
Make a gift to Norton Children's Heart Institute in honor of Tanner
Mason Christensen: 2017
The eighth annual Bourbon & Bowties event honored Mason Christensen, who has Type 1 diabetes. Mason receives the expert care he needs at the Wendy Novak Diabetes Center in conjunction with Norton Children's Hospital and the University of Louisville. While Mason appears healthy on the outside, his body is always fighting to maintain balance on the inside. Mason does not let his diabetes slow him down. He is a student at Trinity High School and an avid sports enthusiast who plays basketball and enjoys snow skiing, fishing, scuba diving and boating. Mason and his family are working to advocate for additional care and research so kids like Mason can stay active on the playing field and live healthy lives. They have established the Christensen Family Diabetes Sports and Activity Program at Norton Children's Hospital to help fulfill this mission.
Make a gift to the Christensen Family Diabetes Sports Activity Program in honor of Mason
Mya White: 2018
The ninth annual event honored Mya White. Mya was born in China and abandoned in a park as an infant. When doctors discovered a rapidly growing tumor in her pelvis, she was taken to an orphanage and then a special care unit. Shelly and Hal White of Louisville saw Mya's story and decided to adopt her, undeterred by her diagnosis of stage 4 cancer. In May 2013, Mya arrived in Louisville and underwent 10 months of intense treatment, including chemotherapy, radiation and two 10-hour surgeries that ultimately removed all the cancer. The Addison Jo Blair Cancer Care Center at Norton Children's Hospital became a "home away from home" for Mya's family. Five years since the end of her treatment, Mya remains cancer-free and is enjoying the life of a typical second-grader.
Make a gift to Norton Children's Cancer Institute in honor of Mya White