As the COVID-19 pandemic continues, it's important to continue monitoring the mental health of children.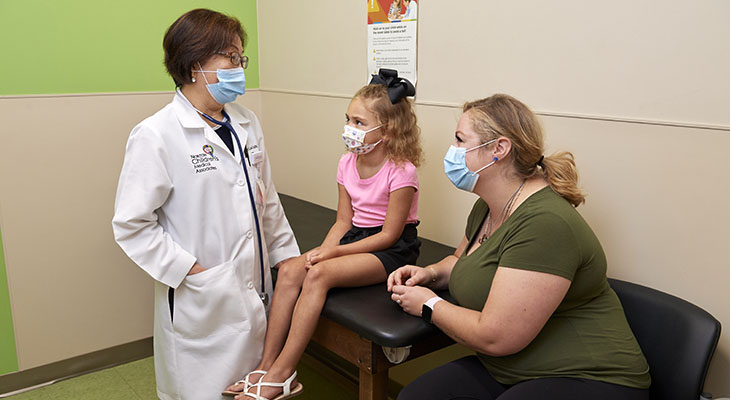 Since the beginning of the COVID-19 pandemic, children and families have been working through a new, difficult normal. Depending on a child's situation, there was a lot to be stressed about: completing school at home, isolation from friends and other family, missing big milestones, parents having financial issues due to the pandemic. It's more important than ever to pay attention to the mental health of our children –– a great way to do this is a yearly checkup with a pediatrician.
Long-term stress can be detrimental for a child's physical and mental health
Learning resilience and how to cope with tough situations is a crucial part of child development. When feeling stressed or threatened, the body responds by increasing the heart rate, blood pressure and releasing hormones related to stress, such as cortisol. Our bodies are not meant to be in the physically demanding "fight or flight" stress response for long periods of time.
More severe and longer-lasting difficulties, called adverse childhood experiences (ACEs), such as the death of a loved one, natural disasters or events such as the COVID-19 pandemic, physical or emotional abuse, etc., all can cause issues for a child's long-term physical and mental health. The more ACEs a child encounters, especially when triggered by multiple sources over time, can cause children to be more at risk for conditions such as heart disease, diabetes, substance abuse and depression as they age. However, a child's stress response and exposure to ACEs often can be eased by supportive relationships with family and friends, and learning age-appropriate coping strategies.
"The pandemic has been a difficult experience for families," said Katy Hopkins, Ph.D., licensed psychologist with Norton Children's Medical Group, affiliated with the UofL School of Medicine. "Children's stress is often intensified by not just what it going on in their lives, but their caregivers' lives as well. Parents need to check in with themselves, too. Ask yourself, 'What coping mechanisms am I using and showing my kids? Am I modeling resilience?'"
As the pandemic continues, parents should continue to watch for signs of stress and depression. The Centers for Disease Control and Prevention (CDC) Morbidity and Mortality Weekly Report published a study in October 2020 showing that between April and October 2020, mental health related visits to emergency rooms were up from 2019 by 24% for ages 5 to 11, and up 31% for children ages 12 to 17. The CDC emphasized the importance of monitoring children's mental health and promoting coping and resilience skills.
Norton Children's Medical Group
When to get help for your child's stress
The American Academy of Pediatrics (AAP) recommends universal screenings for depression. The recommendations include screening at least once a year for children ages 12 and up. The screening should take place during a yearly checkup, sports physical or another appointment.
All Norton Children's Medical Group practices administer depression screenings starting at age 11. The screenings include a form for the patient to fill out, which the provider then reviews.
"Your child's pediatrician is a good person to go to if you're concerned your child is stressed or has regressed at any point during the pandemic," Dr. Hopkins said. "They can help direct you to care or services that the child or family may need."
---