Child life specialists help children and families during a hospital stay. They help children understand and cope through complex diagnoses, including cancer, and any tests or procedures.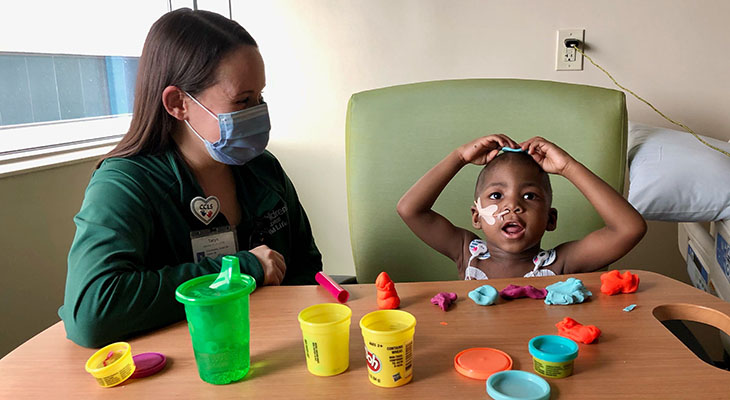 Getting a life-changing diagnosis, such as cancer, can create fear, uncertainty and stress for a child and their family. Child life specialists are professionals who provide emotional support and education and help children and their families build resiliency while getting medical treatment.
Certified child life specialists are educated and clinically trained in the developmental impact of illness and injury. Their role helps improve patient and family care, satisfaction and overall experience. Norton Children's Hospital, Norton Women's & Children's Hospital and Norton Children's Medical Center all have child life specialists available to help children and families. The Norton Children's Hospital Foundation funds all child life services.
Taryn Johnson, certified child life specialist with Norton Children's Cancer Institute, affiliated with the UofL School of Medicine, found her way to child life therapy through volunteer work while she was in high school.
"I had some wonderful volunteer experiences at a therapeutic horseback riding center and volunteering at a camp for children with muscular dystrophy, which helped me find my passion," Taryn said. "From there, I was able to use my experiences teaching swim lessons to start an adaptive swim program at the center I was teaching at. Ultimately, a family friend knew a child life specialist and introduced me to the thought of this career. I researched and was immediately hooked on child life!"
What does a child life specialist do?
Infants, children and teens have different levels of understanding. Child life specialists explain what's happening to the child in a way that makes sense for the child's age and level of understanding. These specialists explain diagnoses and any needed tests and procedures, skipping the medical jargon and using tools that will help even the youngest patients understand their care.
Tests and procedures can seem scary, painful or traumatic to a child. An imaging test such as a computed tomography (CT) scan, can be challenging for a child — sitting still or feeling scared about being in a small space. Another big part of a child life specialist's role is providing support for children during such procedures. Child life specialists talk with children about their fears and concerns and provide support — helping the child conquer their fears and helping providers get the information they need to treat the child.
Helping kids be kids
Child life specialists also help kids be kids. Getting a diagnosis such as childhood cancer can mean a lot of time away from school, friends and activities. Child life specialists help children stay on track with their social and emotional development while in the hospital.
"Kids who have cancer often deal with social isolation, many medical procedures, body image challenges due to the physical changes from treatment, separation from siblings, and often have to grow up so much faster than their peers," Taryn said. "Cancer also affects the entire family, not just the patient. Siblings deal with separation from not only their sibling, but also their caregivers due to lengthy hospital stays and many medical appointments. Siblings often have to take on many additional responsibilities at home when the focus of the family is helping the child with cancer recover. Siblings often have feelings of fear, jealousy, and anger due to the cancer diagnosis."
According to Taryn, working in various areas of Norton Children's Hospital helped her realize that her passion is in helping kids with cancer and their siblings overcome some of these challenges.
"I have found that these kids are so brave in the challenges they face when diagnosed with cancer," Taryn said. "These kids don't let cancer break their spirit, and my goal is to be beside them every step of the way through hospitalization to keep their spirits up or help pick them back up when they are down."
Child life specialists plan activities and encourage play to make sure kids can have the breaks they need. Norton Children's Hospital has playrooms that offer space for kids to get away — no medical procedures are allowed in them. Due to the COVID-19 pandemic, the playrooms are temporarily closed for patient safety. Children who can't leave their rooms can have toys brought to them from the playroom. Teens have access to video games, computers, arts, crafts and age-appropriate magazines and books. Child life specialists encourage communication and understand teens' need for independence and privacy.
"Kids are so strong and resilient in the face of serious medical issues. Watching the transformation of kids and their families from diagnosis to end of treatment is so powerful and motivating to come to work every day," Taryn said. "They often go from being scared and overwhelmed at diagnosis to experts in coping and how the hospital works by the end of treatment. Most people picture a pediatric oncology unit to be full of sick kids in bed. Although our kids are sick, and often going through many painful things, they are still playing, smiling, and making jokes, so much more than most adults would!"
Some of Taryn's favorite memories are the celebrations after a child finishes treatment, called "end of chemo" parties. Due to the COVID-19 pandemic, all group gatherings and end of chemo parties have been paused. Now when a child finishes treatment, the Norton Children's Cancer Institute celebrates them as they are walking out the door. Staff cheers, they get a sign and gift, and they ring the bell. According to Taryn, marking the occasion at the end of treatment can be powerful for families and other patients to witness.
"Several years ago, one child attended an end of chemo party the week she was diagnosed (which often happens)," Taryn said. "From that day on, she began talking about her plans for her end of chemo party and how she would like the Chick-fil-A cow to be present as it was at that first party she attended. Over two years later she finished treatment and her parents called to schedule her party. Her party had been a goal that helped her throughout treatment, so it all came full circle when we were able to celebrate her own end of chemo with the Chick-fil-A cow present!"
---