Here are some health tips to get your family off to a good start this school year.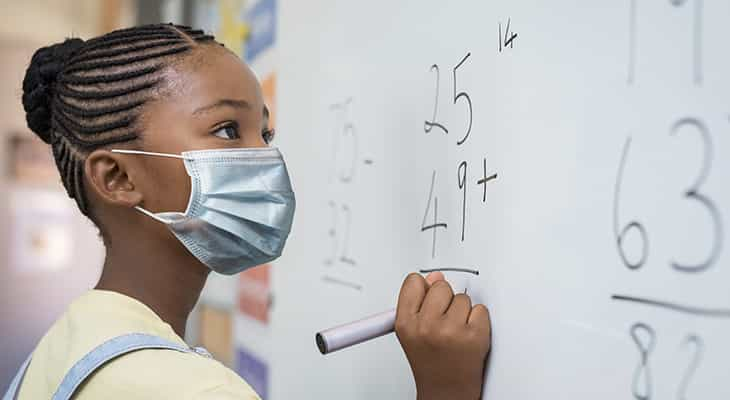 Here are some health tips to get your family off to a good start this school year.
Vaccinations
According to Jill S. Howell-Berg, M.D., pediatrician with Norton Children's Medical Group – Clarksville, students are required to be up to date on vaccinations.
"Vaccines are an important step to the immunity development of any child," Dr. Howell-Berg said. "These vaccines have been strategically set up by age group to best protect your child during their growing years. Having your child vaccinated also helps protect those who can't be immunized."
Due to the coronavirus pandemic, 40% of U.S. parents say their children missed vaccinations, according to statistics from Blue Cross Blue Shield. Lowered vaccination rates can increase outbreaks of measles and whooping cough (pertussis) by eroding the herd immunity that helps keep many of these diseases from affecting children in the community.
"Once vaccination rates begin to dip below 80% to 70% of the population, that's when these diseases can start spreading," Dr. Howell-Berg said.
The COVID-19 vaccine is approved for ages 12 and up.
Well-child checkup
Even if your child isn't due for vaccines, a yearly checkup is a good habit to develop. An annual well-child visit offers you and your child an opportunity to check in on physical and emotional health before taking on new challenges in the new school year.
"Visits to your pediatrician can offer a chance to receive information from specialists on how to keep your child safe from illness while they are attending school," Dr. Howell-Berg said.
A well-child visit may include:
Psychological and behavioral assessment
Blood pressure and heart rate screening
Cholesterol and blood sugar readings
Fine and gross motor skills assessment
Height and weight (BMI) screening
Physical examination
Check of reflexes
Scoliosis screening
Safety checks, such as wearing bike helmets and seat belts
Sports-specific issues, including nutrition, exercise and training
Masks and sanitizing
Pandemic precautions will continue this school year. Be sure your child has a supply of face masks that are comfortable when worn all day. Review how to practice social distancing, and be sure school supplies include hand sanitizer.
"If your child has a medical or other reason why a mask cannot be worn, be sure you've communicated this to the school and gotten guidance on how to prepare," Dr. Howell-Berg said.
Norton Children's Medical Group
With more than 20 locations in the Louisville area and Southern Indiana, and same-day appointments for established patients, scheduling back-to-school checkups and vaccinations is easy.
Allergies and asthma
Before the first day of school, make sure your child's asthma is under control, that your child knows how to handle an asthma attack and that the school and teachers have your child's latest asthma action plan.
Help your child remember any food or other allergies they have.
"If your child has food allergies, know what foods will be available at school and whether there are allergy-free options," said Adriana S. McCubbin, M.D., of Norton Children's Allergy & Immunology, affiliated with the UofL School of Medicine. "If your child has an insect sting allergy, know the plan for keeping them safe during outdoor activities."
Asthma and allergies must be communicated to the school. Work with your child's school about handling any medications such as a rescue inhaler or food allergy medication..
"If your child's allergies or asthma are not well-controlled, discuss with your pediatrician getting a referral to an allergy or asthma specialist," Dr. McCubbin said.
Sleep schedule
Getting enough sleep is one of the best ways to ensure school success. Begin a school sleep routine a couple of weeks before school starts so everyone can get adjusted by the first day. Elementary school-age kids need 8 1/2 to 11 hours of sleep per night.
In addition to going to bed at the same time every night, your child should keep a consistent routine before bed, such as bathing and reading. This will train your child mentally and physically to prepare for a good night's sleep.
---