Aiden Johnson and a young patient hung out in the playroom and challenged each other to video games.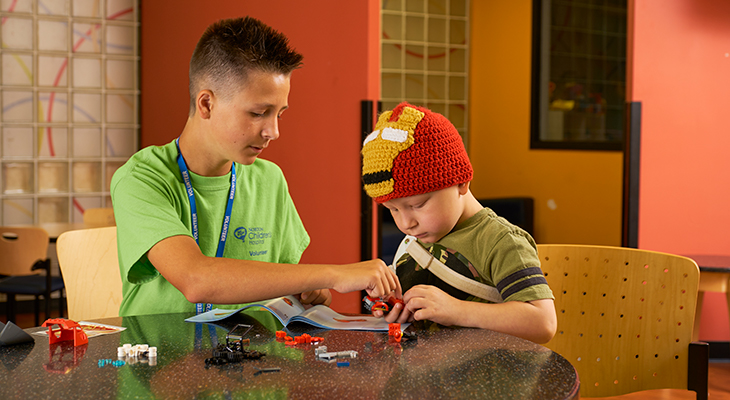 As a two-time cancer survivor, Aiden Johnson is no stranger to the hospital. Over the course of 6 1/2 years, he spent countless days as a patient in the Addison Jo Blair Cancer Care Center at Norton Children's Hospital.
This summer he returned to the cancer unit, but in a very different role. He served as a teen volunteer.
You could say Aiden is somewhat of a celebrity among staff on the cancer unit. Yet while Aiden was keeping kids company or interacting with other volunteers, he didn't reveal his true identity.
They didn't know he was the Aiden of "Aiden's Legacy" — the kid who provides Legos for patients and whose family has raised more than $375,000 to support Norton Children's Cancer Institute, affiliated with the University of Louisville, through the Children's Hospital Foundation.
This summer Aiden just wanted to be Aiden and give his time to the kids experiencing cancer, as he has.
"I would check in with patients and ask if they needed anything or if parents needed someone to play with their child," Aiden said. "If so, I would find a toy and go play for as long as the family wanted me there. It made me feel important to have the responsibility of a volunteer."
Aiden recalled spending almost an entire day with one particular patient. They hung out in the playroom, challenged each other to video games and walked around the unit. Aiden kept the boy occupied to allow his mother some time to work on things she seldom got a chance to do.
Help make a difference
Learn more about Aiden's Legacy and how you can get involved to further the Johnsons' mission.
As for Aiden's parents, Jason and Gena, they could not be more proud of their son.
"Choosing to spend time at the hospital where he has endured chemotherapy, pain and was, at times, extremely sick, seems stressful and traumatic," Gena said. "But to see the smile on his face at the end of each day he spent with the children was rewarding for both him and us as parents."
Now in his freshman year of high school, Aiden is busy with marching and pep band and is learning to drive. He and his family continue their fundraising efforts and celebrating cancer survivors.
Their holiday celebration for more than 100 cancer survivors and their families was held Nov. 23.
---