Drew Esposito's family members bonded with the Norton Cancer Institute team and are grateful they chose quality care close to home.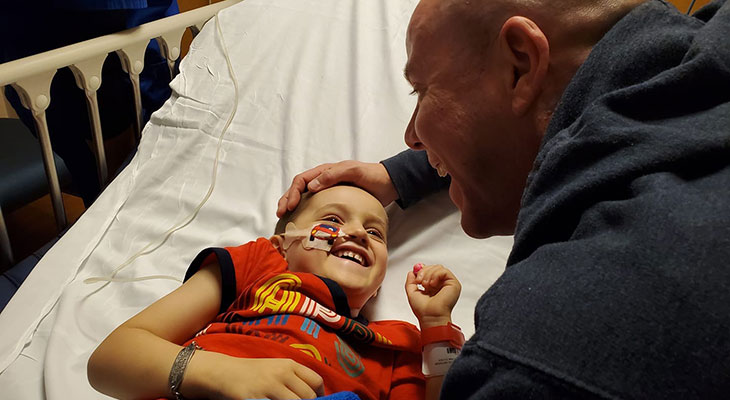 Drew Esposito, "Super Drew" to those who know him, spent almost half a year in the Addison Jo Blair Cancer Care Center at Norton Children's Hospital.
When the 5-year-old returned in January, it wasn't as a patient. This time, he brought a $31,407 check to help the patients who will follow him.
Drew gained his superpowers of strength and courage on Christmas Eve 2018, when was diagnosed with medulloblastoma, a brain tumor that starts in the region of the brain at the base of the skull. He underwent surgery on Christmas Day, followed by three rounds of high-dose chemotherapy and two bone marrow transplants.
He was released from Norton Children's Hospital in August 2019 and recently received the news of clear scans with no evidence of disease.
According to Drew's dad, Jeremy Esposito, it's scary to be too positive after what they've just been through — but you have to live in the now.
The choice to give back
"Not every story is like ours," Jeremy said. "Not everyone is as lucky."
That is why Jeremy, along with his wife, Sondra Esposito, decided to do something to give back. They hosted several fundraising efforts over the last year with support from their Oldham County neighbors. The fundraisers included an online donation page, an auction of special bottles of "Super Drew" Willett bourbon and a partnership with LaGrange Coffee Roasters, which donated $1 from every bag of special "Super Drew" coffee sold.
And they're just getting started, according to Jeremy.
"It was accomplished through a lot of small pieces of people giving," he said.
The Espositos have earmarked the money they raised to help patients with finances and to make some family-friendly upgrades to the cancer care unit.
Sondra is grateful that they were able to stay close to home for Drew's complex care — something that allowed them to care for Drew's two siblings while he was going through treatment.
"It's not just Drew who went through this struggle," Sondra said. "Even though it was the worst for him, it affected the other kids, too."
When caregivers become family
When asked what advice he would give to other parents facing a battle with pediatric cancer, Jeremy recommended keeping faith in the caregivers and to asking a lot of questions.
"Once you've jumped in the car and started driving down the road, you've got to stay with it," he said. "These caregivers are doing it every day, not just with us, but with many families. They go in one room and deal with an intense situation and then go in the next room and play. You have to give them so much credit. It's a crazy job."
Ashok B. Raj, M.D., hematologist/oncologist with Norton Children's Cancer Institute, affiliated with the University of Louisville, said Super Drew's story is enormously inspiring.
"He is remarkably resilient and brave, and fought his cancer hard," Dr. Raj said. "He is surrounded by a wonderful family who helped nurture a positive attitude."
Support Super Drew
You can help Super Drew's fundraising efforts for Norton Children's Cancer Institute, affiliated with the University of Louisville. Donate by phone at (502) 629-8060 or donate online.
The special relationship between Super Drew, his family and his caregivers is obvious in the abundant smiles and hugs exchanged during their reunion. His hospital stays included Nerf gun fights with his nurses and attempted slime pranks on his care team. As a thank-you, the Espositos hosted several members of his care team and their families at their home for a party in October to celebrate the success of Super Drew's treatment.
"When you spend every waking moment with someone for the better part of a year, you can't help but become friends," Jeremy said. "When you do so with a group, you become a family."
---