A ketogenic diet, also called "keto," is used to treat refractory epilepsy. It can be hard to manage during the holidays. A registered dietitian offers a keto pumpkin pie recipe.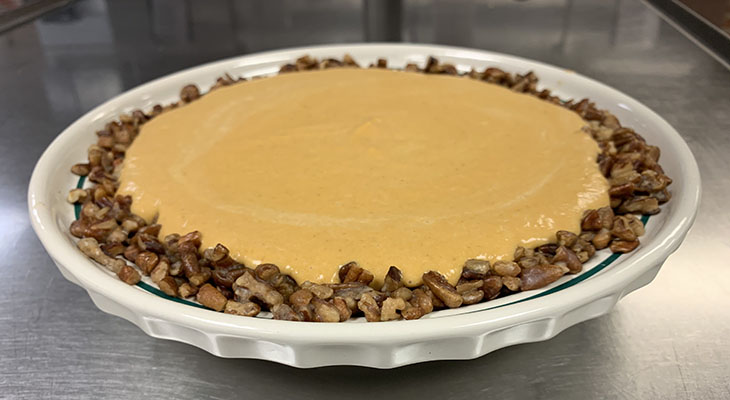 The ketogenic diet is a high-fat and low-carbohydrate diet used to treat refractory epilepsy. It is calorie-controlled and based on a ratio that calculates the amount of fat, protein and carbohydrates to be consumed daily. This high-fat diet encourages the body to use fat, or ketones, as a fuel source. In a "traditional" diet, the body uses carbohydrates, or sugar, as the preferred energy source. Therefore, on a ketogenic diet, sugar and carbohydrates are restricted. Following and maintaining this diet can be challenging during the holidays.
Holidays tend to be food-focused, but with some planning ahead you can make a keto-friendly feast for your child to enjoy! Get creative and reach out to your ketogenic diet dietitian in advance for help putting together a meal that fits into your calorie and ratio requirements.
Below is a recipe idea. You also may want to consider making the holidays special with activities not involving food, such as holiday-themed crafts or activities.
KETO-FRIENDLY PUMPKIN PIE
For the pecan nut crust, you will need:
300 grams ground or chopped pecans
170 grams butter
¼ teaspoon ground cinnamon
Stir together ground nuts and cinnamon. Mix in melted butter. Press the mixture into the bottom and up the sides of a 9-inch pie pan. Chill for 45 minutes.
For the pumpkin pie filling, you will need:
140 grams raw egg, mixed well
40 grams Splenda brown sugar for baking (or sugar substitute of choice)
425 grams pure pumpkin puree
175 grams heavy whipping cream
1 teaspoon vanilla extract
2 teaspoons pumpkin pie spice
½ teaspoon salt
Whisk eggs and sugar substitute. Add pumpkin puree, heavy cream, vanilla, pumpkin pie spice, salt. Heat oven to 375 F. Pour pumpkin filling into pie shell. Bake for 45 minutes.
This pie is made to be a 3:1 ratio.
Please speak with your registered dietitian to incorporate this meal into your child's specialized plan.
Brittany Stanley,RDN, L.D., is a clinical dietitian with Norton Healthcare.
---