Eleanor Iwu experienced dangerously low and fast heartbeats in the womb due to a rare type of long QT syndrome. She's now a happy, thriving child.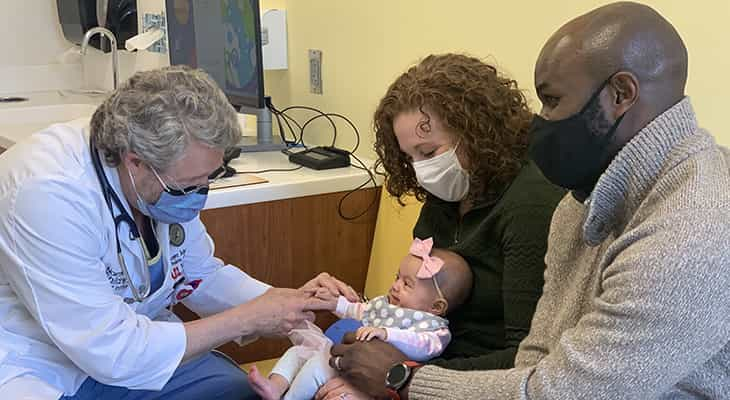 Parents Lena and Sixtus Iwu say that looking at their 5-month-old daughter Eleanor, you wouldn't know what she's been through with a congenital heart condition. The growing, active child born in December has a rare form of long QT syndrome. Her parents and physicians are amazed by how Eleanor continually has defied the odds against her and is thriving.
Low heartbeat leads to maternal-fetal medicine and fetal cardiology care
At Lena's 20-week ultrasound with Heather L. Wilson, M.D., an OB/GYN with Total Woman, a Part of Norton Women's Care, both parents noticed that the baby's heart rate seemed lower than they'd experienced when Lena was pregnant with their son.
"During the ultrasound, the tech said, 'Oh, I'm going to try to get another heart rate,'" Lena said. "We both knew that it was low, but just thought, 'Maybe they just didn't get a good reading in that moment.'"
When they followed up with Dr. Wilson, the parents learned it was confirmed that the baby's heart was very low and that the ultrasound showed potential markers for chromosomal abnormalities. From there, Lena was referred to Norton Children's Maternal-Fetal Medicine for care with Helen Y. How, M.D., a maternal-fetal specialist.
"We kind of started our journey from there seeing a lot of specialists and just kind of trying to figure out what was going on with Eleanor's heart," Lena said.
According to Lena, her first maternal-fetal medicine appointment led to a referral to a fetal cardiologist.
"And then, when we went to meet the fetal cardiologist, they said that the heart looked structurally fine," Lena said.
Lucinda T. Wright, M.D., pediatric cardiologist with Norton Children's Heart Institute, affiliated with the UofL School of Medicine, determined that the fetal heart structure was normal and the heart displayed normal cardiac function. Although the heart rate was slow, it was not causing an issue with the baby's heart muscle at that time. Because of the risk that a low heart rate could affect Eleanor's heart function over time, Dr. Wright asked the family to return for another fetal echocardiogram the following week for reassessment. According to the family, that's when they met Jyothi Matta, M.D., another pediatric cardiologist with Norton Children's Heart Institute.
"She discovered a lot of fluid around Eleanor's heart," Lena said. "And so that's when we really started to really realize how severe her heart condition was. Dr. Matta was incredible with us."
Discovering and treating a rare genetic variant of long QT syndrome
Due to the severity of Eleanor's heart failure, Dr. Matta and the Norton Children's Heart Institute team coordinated with subspecialists to get the Iwu family additional testing to further understand what was causing Eleanor's heart issues.
The heart has a unique electrical system that is responsible for the muscle's regular rhythm. While a fetal echocardiogram can show the mechanical assessment of heart rhythm, it cannot show details of the electrophysiology, or electrical functioning, of a fetal heart.
Eleanor's heart needed evaluation via fetal magnetocardiography (fMCG), a noninvasive test for recording magnetic fields generated by the electrical activity of the fetal heart.
The testing showed extremely rapid, irregular heart rhythm disturbances called ventricular tachycardia, also known as torsades de pointes (TdP). This is when the heart's ventricles (lower chambers of the heart) beat faster than and out of sync with the atria (upper chambers of the heart). This rhythm disturbance is associated with long QT syndrome, a condition that can cause abnormal or potentially dangerous heart rhythms. According to Christopher L. Johnsrude, M.D., pediatric cardiologist and director of the pediatric and adult congenital cardiology arrhythmia service for Norton Children's Heart Institute, long QT syndrome affects about 1 in 2,000 people and is often an inherited condition. Most individuals who experience it have just one genetic mutation that causes the condition.
Eleanor, however, has an extremely rare combination of genetic mutations associated with long QT syndrome: one she inherited from her mother and another that was "de novo," or a spontaneous, noninherited mutation.
In addition to causing long QT syndrome, the genetic mutations caused Eleanor to experience a type of slow heartbeat called second-degree atrioventricular (AV) block. AV block prevents the electrical signals originating in the atria from reaching the ventricles. This can slow or interrupt the heartbeat and can make it difficult for the heart to pump blood to the rest of the body.
"This combination is substantially responsible for why she was so sick as a fetus," Dr. Johnsrude said.
Dr. Matta prescribed beta blockers (a heart medicine) that Lena would take to reach Eleanor in the womb. The medicine was used in the hope it would calm and steady the erratic rhythm of Eleanor's heart enough for her to grow and to become healthier before she was born.
Norton Children's Heart Institute
Call for an appointment
Planning for delivery and surgery
Due to the many complications Eleanor was facing, the Norton Children's Heart Institute team wanted to be ready for anything that could happen after Eleanor was born. The team decided that Lena should deliver via cesarean section (C-section) at Norton Children's Hospital — an extremely rare event. Usually babies are delivered at Norton Hospital and brought across a pedway if they need care at Norton Children's Hospital. The labor and delivery team from Norton Hospital was instrumental in facilitating a smooth delivery by bringing their nurses, operating room technologists and equipment to Norton Children's Hospital for the delivery. Lena would deliver in one operating room next door to another prepared and staffed for Eleanor's care upon birth. The Norton Children's Heart Institute team coordinated with specialists throughout the hospital so everyone would be on hand and ready to go.
"All the specialists put a game plan together," Lena said. "Dr. Matta shared that they did a presentation about us, and were coordinating all the different details about what they needed to do to make sure that the delivery was perfect. They put a diagram together of where everyone was supposed to be in my [operating room] and in Eleanor's; they practiced it down to the second. And while it wasn't the birth plan that either one of us would have envisioned, it was perfect for Eleanor and it got her here safely, and that's what really mattered to us."
As soon as Lyndsey D. Neese, M.D., obstetrician with Norton Children's Maternal-Fetal Medicine, delivered Eleanor via C-section, she was taken to the adjoining room to be evaluated by Tamina R.B. Singh, M.D., neonatologist with Norton Children's Neonatology, affiliated with the UofL School of Medicine.
"Everyone was enormously happy because Eleanor was crying, vigorous and strong," Dr. Johnsrude said. "Children as sick as Eleanor could have been usually don't present as such."
Sixtus was able to go to Eleanor's room, and as soon as the C-section surgery was completed, Lena was wheeled in by the Norton Hospital labor and delivery nurses to meet her daughter for the first time.
"I was able to see her and hold her little hand, which was pretty incredible," Lena said.
From there, Deborah J. Kozik, D.O., pediatric cardiothoracic surgeon with Norton Children's Heart Institute, placed a temporary pacemaker system on Eleanor's heart because of her very low heart rate.
Eleanor spent the next six weeks in the Jennifer Lawrence Cardiac Intensive Care Unit (CICU) at Norton Children's Hospital growing and developing under the watch of pediatric heart specialists in order to reach the necessary milestones for a more permanent pacemaker placement.
With 17 private rooms, including three specifically for newborns, the Jennifer Lawrence CICU is a specialized unit for pediatric heart patients. The unit was made possible through a $2 million gift from Louisville native Jennifer Lawrence, along with a challenge to the community to support the initiative. This challenge resulted in more than $4 million raised through the Norton Children's Hospital Foundation to support the project.
Eleanor was 7 weeks old when her permanent pacemaker was placed. Her entire stay at Norton Children's Hospital was seven weeks and a day. When it was time for Eleanor to go home, the CICU team held a celebration parade for the family.
"When you look at her now, you almost can't believe she's been through it. She's active and moving, talking to us. It's pretty incredible to see how well she's doing," Sixtus said. "And our care at this point is having follow-ups, now less regularly, making sure she gets her medication three times a day for her heart, and of course making sure she's fine until she gets her next pacemaker replacement a couple years out."
Heart care for the whole family
It was through Eleanor's experience that Lena learned something about her own health: She also has long QT syndrome. Often when genetic conditions are found, including congenital heart conditions, genetic testing — called cascade family screening — is done on first-degree relatives. Through such testing, Lena discovered she and a brother have long QT syndrome.
"We had no idea that we had it," Lena said. "Since he's doing such a great job with Eleanor, I chose Dr. Johnsrude as my cardiologist."
"I follow a number of children with long QT as well as their moms or dads," Dr. Johnsrude said. "I told her, 'You haven't had any events, and hopefully you never will.' There are a number of things patients with long QT can do to minimize the chance of unexpected heart events, including regular care with an electrophysiologist."
"I truly believe Eleanor saved our lives because I don't know if we would have known otherwise," Lena said. "We are so grateful to our care team; they were so incredible every step of the way and continue to be amazing! We could never thank them enough."
---