How to decrease risk of injury every time your child takes the mound
Being a sport parent is tough. You want the best for your kid. You want to push them (gently) when they need it but also want them to have fun during their athletic endeavors. And you certainly want to help them avoid pitching injuries and ailments.
Recently, Ryan J. Krupp, M.D., orthopedic and sports medicine specialist with Norton Sports Health held a free Throwing Clinic for young athletes at Legends Sports Academy in Louisville.
Here are a few tips from the event on how to prepare for the pitching season:
Master the simple pitches with strong mechanics. A pitcher's job is to throw strikes. The best way to accomplish this? Master the basics with good mechanics. Young athletes don't need an arsenal of pitches; they need to master two: fastball and changeup. Research indicates that these are the only pitches youth players should throw until they have hit puberty (typically age 13 or 14) in order to decrease their risk of injury.
Pay attention to number of pitches and rest days. The No. 1 reason pitchers are injured is overuse, but the good news is that it is completely preventable. See the pitch count chart below, or a good rule of thumb is to limit pitches per game to no more than six times the athlete's age (for example, a 15-year-old pitcher = 90 pitches; a 10-year-old pitcher = 60 pitches). Rest is equally important to keeping a pitcher healthy. A young player should never pitch two games in a day, regardless of pitch count. Pitchers also need two to four days off between starts depending on the pitch count. There should also be stretches of time throughout the year that they do not do baseball activities. Research shows athletes ages 14 to 20 who pitch more than eight months out of the year are five times more likely to have elbow or shoulder surgery.
Always warm up and have an arm care program. Pitchers, regardless of age, should always take part in a proper warm up before taking the mound, as it will greatly reduce the risk of injury. They should also be diligent about an arm care program throughout the season. The program should include stretching and strengthening exercises that focus on decreasing posterior capsule tightness and increase strength of the rotator cuff and scapula stabilizers in the shoulder.
Have a strong core, hips and legs. Pitching is not just about your arm — it should be a full body activity. The majority of power and ability to have a good leg drive comes from your core, hips and leg muscles. Your arm is your accuracy; your lower body is your power. Good mechanics throughout the pitching motion will help protect your arm from injury and will be driven by your lower body.
Listen to your body. Kids want to play, so if they say something is wrong — listen. Research shows young athletes who have pitched through self-admitted arm fatigue are 36 times more likely to have elbow or shoulder surgery. A pitcher who has pain during a game should be removed. If pain or arm fatigue does not relieve itself within a few days, it is time to consult a sports health specialist.
Food for thought:
In 2016 there were 750 players on the MLB's active rosters. Of those, only 13 had played in the Little League World Series, and only one of those is currently a pitcher in the MLB. This serves as a good reminder that too much, too early, regardless of athletic ability, has a cumulative effect that can be detrimental to an athlete's career — or stop it before it even begins.
Download this handy pitch count and rest day chart to keep your young athlete going strong.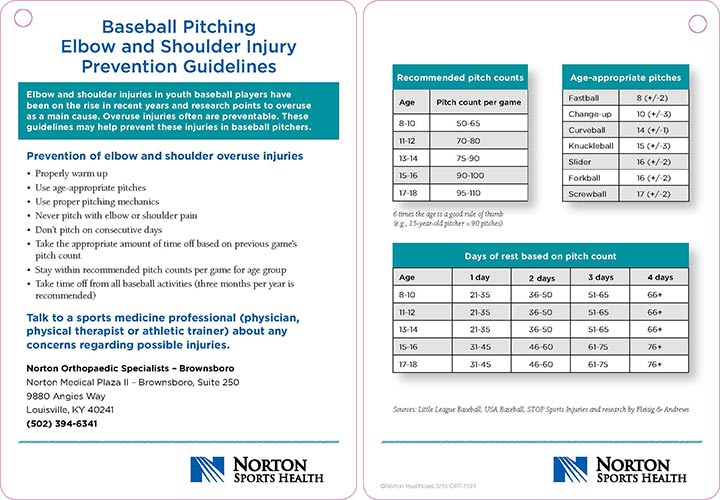 ---