Norton Children's Heart Institute physicians and staff rally to provide care to a young patient seemingly out of options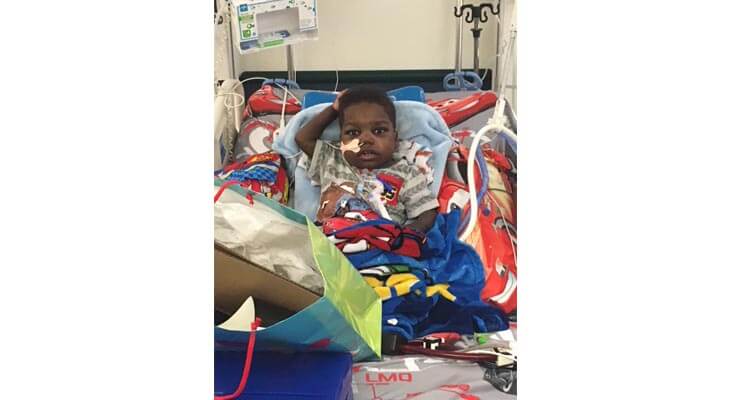 Philmore Jackson III, is a courageous young man whose medical journey has taken many twists and turns. By age 3, Philmore, who goes by P.J., had been near death many times. By many accounts, there wasn't much hope for him to live to his fourth birthday.
Born in 2014 in Grand Rapids, Michigan, P.J. was diagnosed with a complex and rare heart defect known as hypoplastic left heart syndrome (HLHS). The left side of his heart was critically underdeveloped and unable to pump blood to his body. The right side of his heart had to do all the work.
P.J. underwent his first heart surgery in Michigan five days after birth and a second surgery four months later. At 7 months old, he was finally discharged and able to go home for the first time. But by the time he reached his second birthday, the right side of his heart did not work well and he was in severe heart failure.
Norton Children's Hospital Home & BMW Raffle
Don't miss your chance to win a new house and help kids at Norton Children's Hospital. Proceeds benefit Norton Children's Heart Institute.
Because of P.J.'s other health issues, physicians where he lived at the time were concerned he would not be a good candidate for a heart transplant.
"I appreciated the honesty of the other physicians telling me why they felt P.J. wasn't a good candidate for a heart transplant," said Denise Stuckey, P.J.'s mom.
But Denise began doing her homework. She made phone calls and inquired about pediatric heart transplant programs everywhere she could find. She would call, talk with their physicians and wait for a response.
"I kept reminding myself that even if one door closes, another one will open," Denise said.
A door opens
In May 2017, Stuckey had a phone conversation with Joshua Sparks, M.D., pediatric cardiologist with UofL Physicians and medical director of the Pediatric Advanced Heart Failure and Transplant Program team at Norton Children's Hospital. The words from Dr. Sparks were encouraging.
"Dr. Sparks spoke to me with a sense of confidence, but was also realistic," Denise said. "He didn't make any promises, but at the same time he provided me with a hope that more could be done to help my baby live."
Her fears began turning to hope when P.J. started a new journey at Norton Children's Hospital.
Within just a few weeks from her conversation with Dr. Sparks, P.J. was transferred to Norton Children's Hospital. By June 11, he was on extracorporeal membrane oxygenation (ECMO). The ECMO machine did the work of the heart and lungs, giving P.J.'s heart a much-needed break. From there, Dr. Sparks and other physicians pored over P.J.'s case to determine the best course of treatment. Within a few days, P.J. was on the pediatric heart transplant list.
A donor heart and a successful surgery
And so, the wait began.
On Oct. 6, 2017, the dream of receiving a heart transplant became reality. The surgery was a success. P.J. spent the next seven months recovering and preparing to go home, which he did in early May 2018.
"P.J. has a journey ahead of him," Denise said. "But he never would have had the opportunity if it hadn't been for the medical team at Norton Children's Heart Institute."
Children who receive heart transplants require monitoring and lifelong care. P.J. and his family continue to visit the specialists at Norton Children's Heart Institute, affiliated with the University of Louisville. 
---