Food insecurity has negative effects on a child's health and development. Norton Children's is adding a food pantry to select pediatricians' offices to give families access to healthy food.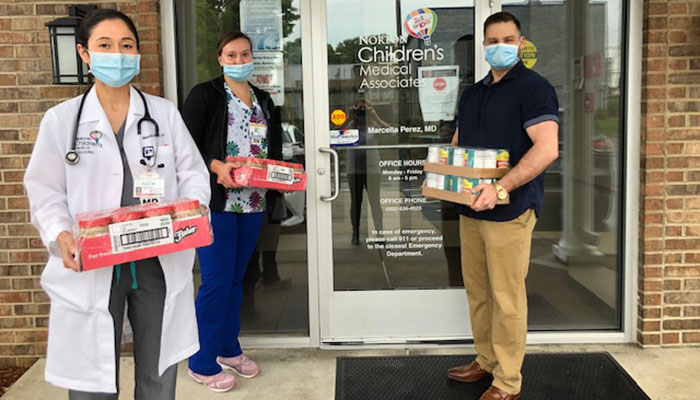 Many families in Louisville and Southern Indiana struggle to provide healthy meals for children. This is due to many factors, including cost, living in a "food desert" — an area where it's difficult to find affordable fresh food — and being unable to travel to a grocery. Food insecurity has negative effects for a child's health and lifelong well-being. At Norton Children's Medical Group, affiliated with the UofL School of Medicine, we understand the lifelong implications of child hunger as well as the barriers and challenges families face. That is why we are expanding our prescriptive food pantry model to select Norton Children's Medical Group pediatricians' offices and Norton Community Medical Group family practice offices.
Providers will screen patients for signs of hunger and food insecurity. Providers then are able to use the prescriptive pantry to provide families with nutritionally sound food as well as information on how to get the best nutrition with limited resources.
The pantries will be phased in at locations throughout May and June. The prescriptive pantries are made possible through generous grants supported by Norton Children's Hospital Foundation and the Community Foundation of Louisville – One Louisville: COVID-19 Response Fund, and powered through Dare to Care Food Bank.
Fighting child hunger with prescriptive food pantry since 2016
The Norton Children's Medical Group – Broadway location has had a prescriptive pantry since 2016.
While performing an exam on a new patient in 2015, pediatrician Erin R. Frazier, M.D., learned that the teen, along with her mom and sister, had just arrived in Louisville after escaping a bad situation. They were practically homeless and didn't know where their next meal would come from.
"As I finished the checkup, the mom asked if we had any food vouchers," Dr. Frazier said. "Unfortunately, we didn't have anything readily available. We did end up helping the family, but we had to scramble."
That started a change. Dr. Frazier and colleagues Becky S. Carothers, M.D., and Nancee Spillman, APRN, teamed up with Dare to Care to open a prescriptive food pantry in their pediatric practice.
Having a food pantry at the practice allows pediatricians to identify families who may be experiencing hunger. As part of all wellness visits, patients are asked a couple of basic questions to determine if they have food insecurities.
"Our job is to treat the whole patient, and food and proper nutrition are a big part of physical and mental health," Nancee said. "It turns out we see multiple patients and families each week who are facing this hardship."
Norton Children's Medical Group
The food pantries are stocked with healthy options such as cereals low in sugar, brown rice, whole-wheat pasta, low-sodium pasta sauce, tuna, peanut butter, canned fruit in natural juices and canned vegetables with no added salt.
"We are always promoting good eating habits, so we need to make sure that's what we're providing," Dr. Frazier said. "We also have foods that are helpful to people battling conditions such as diabetes, high blood pressure and heart issues."
"Our families — even the ones who don't have food insecurities — are so appreciative that we even ask," Dr. Carothers said. "And the ones that do really are grateful that we have their backs during such a time of despair and uncertainty. It's great we can make a difference."
---