Luke Klausing met members of Congress and saw the sights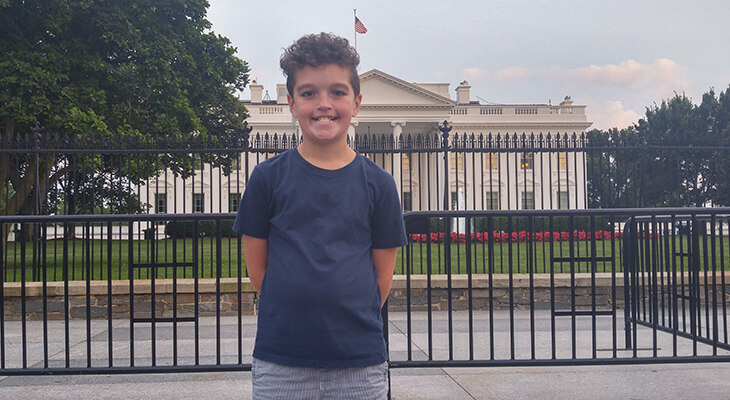 Hi again! I just got back from the 2018 Speak Now for Kids Family Advocacy Day in Washington, D.C. I had such a great time representing Norton Children's Hospital and being a voice for sick kids across Kentucky.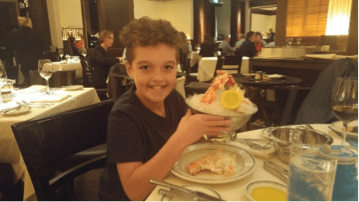 I kicked off the trip on a high note by eating a whole pound of crab. Few believed I could do it, but I knew I'd need my strength for the two days ahead.
The first full day, I, along with kids from other hospitals, took a bus tour of Washington and visited the National Museum of American History. I learned a lot about our country and saw many interesting exhibits. We also got to visit the National Zoo. I even stopped by the stadium where the Washington Wizards play basketball and got a John Wall jersey. I love cheering on my Kentucky Wildcats even after they turn pro!
Radiothon raises money to help care for kids
Tune in for the Norton Children's Hospital Radiothon on Nov. 15 and 16, broadcasting live on Alpha Media stations 99.7 DJX, B96.5, Magic 101.3, 102.3 Jack FM and ALT 105.1. Stop by Norton Women's & Children's Hospital in St. Matthews — we'll be in the lobby!
or
That night my family and I toured some of the monuments before my younger sister, Emma, got too tired. It was OK to go to bed a little early. Day one was all about fun. Day two was about business.
The next day, after starting off the morning with one of my daily breathing treatments, our family got to tour the White House. This was something I've always dreamt of. I was really impressed by how much security surrounded the White House. While we were taking our tour, I kept thinking about all the past presidents that have walked the same floor.
After the White House, we attended a luncheon with many of the kids I had met the day before. It was fun sharing stories about our experiences. It made me realize that children's health isn't just a topic in Kentucky. It's being talked about all around the world.
Once we finished eating, it was time for our personal meeting with Senate Majority Leader Mitch McConnell. We went to his office, which is one of the most historic places in the Capitol. I met him once, when I was 2 years old, and had a photo from that time. I took the photo to our meeting to show the senator. He autographed it and gave back to me. In return, I presented him with a signed bow tie from Norton Children's Hospital's Bourbon & Bowties event. We then discussed my story and the importance of children's health.
We then trekked across the Capitol to Rep. John Yarmuth's office. Rep. Yarmuth spent a lot of time with us listening to my story. My dad had a great conversation with him about cystic fibrosis and the importance of keeping health care dollars in Kentucky. Rep. Yarmuth also found out that Emma paints pictures to support our cystic fibrosis foundation, and he commissioned her to paint a picture of his cat.
After our meeting, we boarded the plane to head home. It was a busy, but fun, trip. I really enjoyed meeting other kids and our local legislators. I really hope that my story will encourage lawmakers to always keep children like me at the top of their minds.
I can't thank Norton Children's Hospital enough for this wonderful experience. I am proud that I got to be a voice for children's health in Kentucky and across the country.
---