Bren Jensen uses her story to deliver a message of hope on medical/surgical unit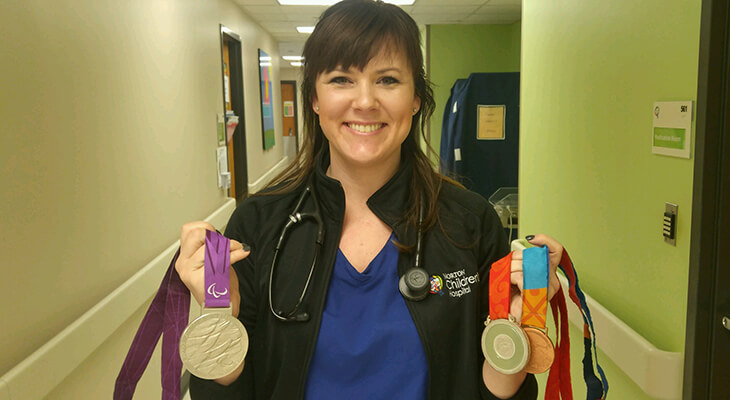 When you see Brenda Jensen, R.N., caring for patients at Norton Children's Hospital, you won't notice anything out of the ordinary. But Bren, a nurse on the medical/surgical unit, has a powerful story of personal tragedy and triumph that she shares with her patients.
Flashback to April 17, 1991. Bren, then 5 years old, was playing outside her uncle's Sellersburg, Indiana, home. Her uncle was cutting the grass and Bren was running behind the riding mower.
"My uncle made a turn and I ran in front," Bren said.
She fell right in front of the oncoming machine. Her leg went under the moving blades. She doesn't remember much after that, aside from screaming for her mom and an emergency helicopter ride to Louisville. Even at that age, Bren knew she wasn't in good shape.
"My leg from below the knee was in shambles," she said.
She spent several days in the hospital before doctors determined they couldn't save her leg. They performed an amputation. It was the first of more than 20 surgeries she would have over the next three decades. A prosthetic leg was her new way of life.
Overcoming adversity to Paralympic stardom
When Bren returned home from the hospital, she very easily could have used her new disability as a crutch. But her attitude was the exact opposite.
"Two weeks after being home from the hospital, I remember riding my bike," Bren said. "I couldn't balance very well so I had to brace myself against the fence. But I was determined to be a kid and play."
That determination spilled over into her new love: volleyball. Bren played volleyball throughout elementary and middle school and into high school.
"The disability wasn't an issue," she said. "I wanted to play, so I played."
And she played well. So well, in fact, that a scout from the U.S. Paralympic volleyball team found out about Bren and invited her to try out. She made the team, playing in the Paralympic Games in Athens, London and Beijing. Her team medaled at all three.
Ways to help
There are many ways individuals and groups can help Norton Children's. Gifts of time or dollars make a difference, no matter their size.
"It was an amazing experience," Bren said. "I got to travel the world and meet so many great people."
Sharing her journey with young patients
After retiring from the Paralympic team, Bren decided to focus on a new calling: nursing.
"I spent a lot of time in hospitals growing up," she said. "I knew early on that I wanted to become a nurse and care for kids."
At Norton Children's Hospital, Bren works with many types of patients on the med/surg unit. She said when she is caring for a child who is feeling hopeless, she shows them her prosthetic leg.
"I don't bring it up to everyone, but I do show it to families and patients who are feeling down," she said. "At first they're shocked. Then I tell them about my journey. If I can overcome my challenge, they can overcome theirs too. It creates almost an instant bond."
A message of hope
Bren is now working to become a nurse practitioner but says she'll continue to work with kids. She'll also continue to tell her story to patients coping with hard times.
"I want people to know that a disability doesn't hold you back unless you let it," Bren said. "With a positive attitude and some determination, it's amazing what you can overcome."
---