Changing a diaper by flashlight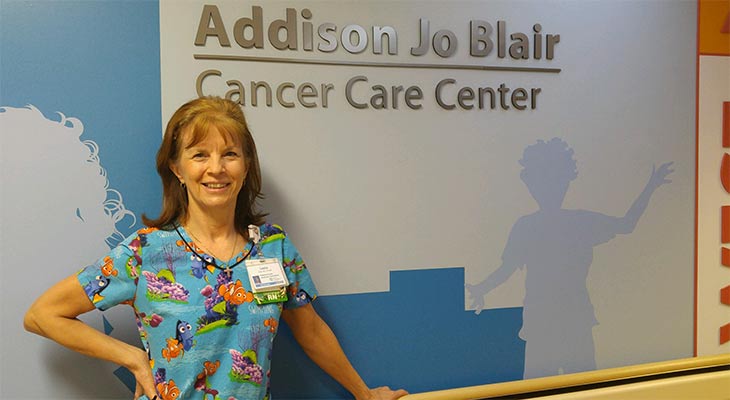 It was the middle of the night when Leslie Peak and another nurse descended on a young toddler's hospital room. They were on a mission at the request of her parents: change the baby's diaper without waking her up.
Reminiscent of a team of Navy Seals on a top-secret mission, Peak and her colleague cracked open the door. It was dark and quiet. With flashlights in hand they quietly approached the child's crib. The girl was fast asleep, snoring, with her rear end sticking up in the air.
"How on earth are we going to change this diaper and keep her asleep in this position?" thought Peak, a 40-year veteran of the hospital's Addison Jo Blair Cancer Care Center, which will become part of Norton Children's Cancer Institute.
But that's what overnight nurses do. While the daylight hours are filled with the hustle and bustle of tests, treatments and activities, the night shift requires a different approach — trying to get the job done while the world around them, including patients, is fast asleep.
Peak knows the night shift well. She's worked in the cancer unit since the late '70s, many of those years during the dark of night. The hours are far from easy, but Peak wouldn't have it any other way.
"I love working with these kids and their families," she said.
During her four decades, Peak has seen cancer care come a long way. She's witnessed new treatments, better drugs and groundbreaking research. More people are surviving cancer than ever before.
"Back in the '80s, chemo was so rough — we couldn't pinpoint cancerous cells like we do today," she said. "The medicines to treat the chemo symptoms also are so much better. It used to be patients needed to be around a bucket 24/7, but now you see many of them playing and smiling — bald heads and all."
The cancer center is different from any other part of Norton Children's Hospital. Many of its patients stay for weeks, even months at a time, over the course of years. Their faces become familiar. It's impossible for the staff and patients not to form bonds.
"You just fall in love with them," Peak said. "Their victories are your victories. When you see their hair growing back, they're gaining weight and laughing — you can't help but to think of them as your own."
The laughter is her favorite part of the job. It helps counteract the pain.
"One of my very first experiences, a child coded and as the team was working on him, his mom and I went into another room," Peak said. "I was the one who started crying and mom was consoling me!"
But it's a moment in the early '80s she remembers most. Even the memory 30 years later makes this veteran nurse cry. She overheard a father talking to his 6-year-old son, who was about to die of a brain tumor.
"The dad was telling his son goodbye for the final time," Peak said. "Dad kept saying, 'It's going to be OK' and that heaven is a great place. I went back to the nurses' station and balled my eyes out."
No one would blame Peak if, after four decades, she was a bit immune to losing patients, but says it never gets easier — and she wouldn't have it any other way.
"Does it lead to less sleep? Sure," she said, "but I'm grateful I can connect with my patients on such a strong level after all these years. I might have experience going through this, but it's new for each of these families. I'll always hang onto that."
What's Peak's secret to pushing on after all these years?
"It's simple: faith," she said. "I truly believe our purpose on this earth is to serve others. There's no greater gift than a child, and I want to take care of these families the best way possible while they're with us."
Looking back on her journey, Peak acknowledges there are more happy endings now than ever before. She expects that trend to continue.
"Therapies, medicines and research will only get better," she said. "My hope is one day we'll have a near-perfect cure rate and treatments will get easier and quicker."
In the meantime, Peak will continue to work her overnights in the Addison Jo Blair Cancer Care Center. It's a mission she'll accept time after time.
And, by the way, the diaper change was a success. The child never knew they were there. Because that's what overnight nurses do.
---