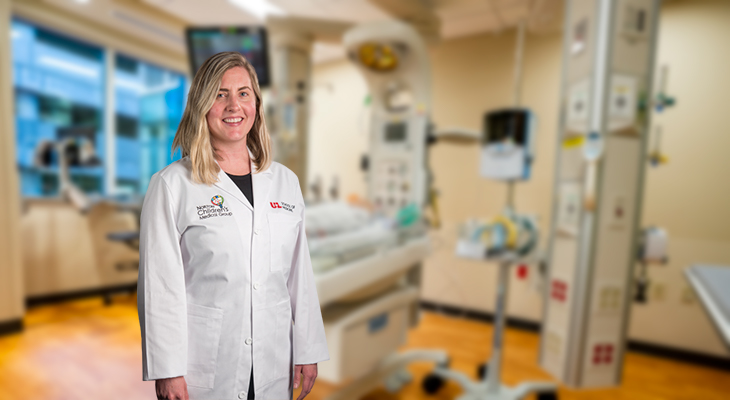 Pediatric cardiologist Sarah J. Wilkens, M.D., MPH, has trained to care for the sickest children — heart failure and transplant patients.
"Ultimately what motivates me are the patients and trying to support their families in these difficult situations," Dr. Wilkens said.
Equally important, she said, is seeing her patients as they grow up — then having a long-term relationship with them and with their families.
Rapidly changing and improving technology to help children with congenital heart defects makes pediatric cardiology an exciting field, according to Dr. Wilkens.
"There's a lot of emerging and growing technology, so being a part of that is really exciting," she said.
For example, mechanical support and ventricular assist devices (VADs) are now available for smaller children and for children with single ventricle disease.
Every day is different and poses new challenges, a variety Dr. Wilkens said she likes. One day she will be in the Jennifer Lawrence Cardiac Intensive Care Unit, and then next she will be caring for children in Norton Children's Hospital's cardiac progressive care unit; and the day after that she'll see children in clinic.
Dr. Wilkens began at Norton Children's Heart Institute, affiliated with the UofL School of Medicine, as a heart failure and transplant specialist in 2019. She said she chose Norton Children's because of the breadth of expertise and the heart institute's growth. Dr. Wilkens is also able to apply her expertise in medical ethics, serving on the ethics committee at the children's hospital.
"It seemed like a good fit," she said. "I was very impressed with the way Norton Children's was supportive of clinical and medical ethics and is also committed to establishing the division of pediatric cardiology, and the specialty of pediatric heart failure and transplant specifically, as a center of quality and excellence in the region."
Norton Children's Heart Institute
Call to learn more about our services or to schedule an appointment with Norton Children's Heart Institute, affiliated with the UofL School of Medicine.
Originally from Scottsdale, Arizona, outside of Phoenix, Dr. Wilkens attended the University of California, San Diego, where she studied world literature. When she started college, she was thinking about becoming a marine biologist or a color commentator at baseball games. She grew up going to Arizona Diamondbacks games with her dad. She started thinking about medicine as she took more and more science classes in college.
Dr. Wilkens returned home to Arizona and received her medical degree and master's degree in public health from the University of Arizona in Tucson. She then completed her medical training in pediatrics and pediatric cardiology in Illinois at Northwestern University's Ann and Robert H. Lurie Children's Hospital of Chicago. At the same time, she completed a fellowship in medical ethics at the University of Chicago.
From there, Dr. Wilkens went to Lucile Packard Children's Hospital Stanford in Palo Alto, California, first as a pediatric heart failure and transplant fellow and then as a postdoctoral research fellow. Dr. Wilkens worked on a number of research projects focusing on both ethics and on children receiving transplants and VADs.
New to Louisville, Dr. Wilkens said she has enjoyed the city's many outstanding restaurants and exploring hiking and camping in the area with her dog, a sheepadoodle (Old English sheepdog and poodle mix) named Eddie.
---