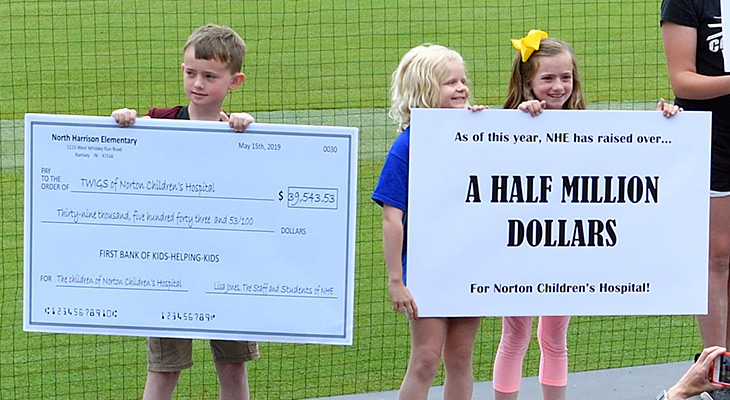 The students of North Harrison Elementary School in Ramsey, Indiana, raised $39,543.53 for Norton Children's during the 2018-2019 school year and celebrated with a fun-filled field trip to Louisville Slugger Field on May 15, 2019. Nearly 300 pre-K to fifth-graders were rewarded with the field trip.
North Harrison Elementary has been raising money to support Norton Children's Hospital and facilities through the Children's Hospital Foundation for 31 years. Since 1989, they have raised more than $506,000.
"This is a huge accomplishment for a school to reach the half million dollar mark," said Courtney Puckett, coordinator with the Children's Hospital Foundation. "The partnership between the foundation and North Harrison Elementary is the longest running relationship with any school in the region, and they are our top fundraising school."
According to Lisa Jones, North Harrison principal, the top fundraisers were Jeffery Schenck, Noah Schenck, Nick Schenck, Paisley Crosier, Beckett Crosier, Isaac First, Gracie First, Emily First, Ava Cox, Amelia Sullivan, Mitch Clunie and Jaxon Losiniecki.
Children's Hospital Foundation
Is your school or youth organization interested in partnering with the Children's Hospital Foundation?
Learn more or Call (502) 629-8060
The school hosts several fundraising events throughout a 3-week period each spring, including a walkathon, and lemonade and popcorn sales. The principal also credits the generosity of the school's staff and faculty as well as the students' parents, grandparents and extended family with their fundraising success.
During their field trip, students had the opportunity to learn more about what their donation is specifically supporting. This year's donation is funding the care and expenses of Rosa, one of six dogs in Norton Healthcare's "Heel, Dog, Heal" facility dog program. Rosa is a facility dog who spends her days visiting with patients, staff and families at Norton Women's & Children's Hospital. Students got to meet and play with Rosa along with two other facility dogs.
---