After saving baby's life, family and physician form lifelong friendship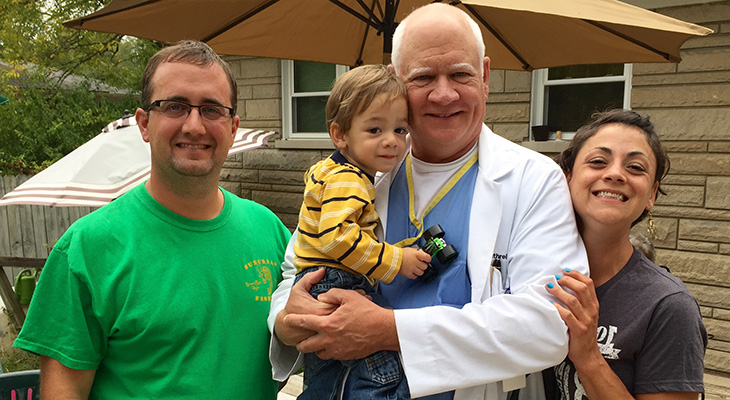 An approaching birth is normally a joyful event, but for Jodie and James Campbell of Louisville it was fraught with anxiety. In 2013, their unborn child had become severely anemic from a viral infection, parvovirus, Jodie had developed.
At 24 weeks of pregnancy, the child's survival depended entirely on a timely blood transfusion into the unborn baby's umbilical cord.
That's when W. Vance Cuthrell, M.D., entered the picture. The perinatologist with Norton Children's Maternal-Fetal Medicine specializes in caring for women and unborn babies with pregnancy complications.
With ultrasound to guide him, and Molly V. Houser, M.D., assisting, Dr. Cuthrell inserted a needle through Jodie's abdomen and tried to connect with the umbilical cord vein to provide the life-saving transfusion.
Dr. Cuthrell was unable to find his mark during four tries over a two-week period due to a lack of amniotic fluid, a swollen placenta and a swollen fetus that was not moving.
"With this procedure, there are a lot of variables you can't control," Dr. Cuthrell said. "The baby's position is different each time, for example. In Jodie's case, the placenta was so swollen, it was folded over the umbilical cord so I couldn't reach it."
As the days passed, the child was in ever-increasing danger of heart failure.The transfusion was finally achieved on Dr. Cuthrell's fifth attempt, and the Campbells rejoiced in the birth of baby Levi at 36 weeks on Sept. 20, 2013, at Norton Hospital.
The infant was delivered by Dr. Cuthrell's partner, Whitney E. Jamie, M.D. Levi spent the first three-and-a-half weeks in the neonatal intensive care unit at Norton Children's Hospital but emerged healthy to the relief of his parents and Dr. Cuthrell.
"God blessed us, for sure," Jodie said. "He just used Dr. Cuthrell's hands (to complete) the procedure."
A friendship grew between Dr. Cuthrell and the whole Campbell family, including Levi's older sister, Emma June, 4.
"I've kept up with the family because it's such a miracle that Levi survived," Dr. Cuthrell said. "It's fun watching him run around."
Dr. Cuthrell is a special guest of honor on Levi's birthdays. He enjoys taking the family honey from his own beehive and eggs from his chickens. The family returns the favor by bringing him homemade jam. They all like to exchange gardening tips.
Dr. Cuthrell has referred the family to specialists and visited Levi in the hospital last year after the boy had surgery for an inguinal hernia.
"Dr. Cuthrell is truly one of a kind," Jodie said. "He's a good guy all the way around. Words cannot describe what he means to my family. Levi calls him 'Dr. Papa.' When he sees a picture of him, he says, 'He helped save my life!'"
---