Norton Children's first patient injured his hip playing like any child. His surgery and recovery were uncommon by today's standards.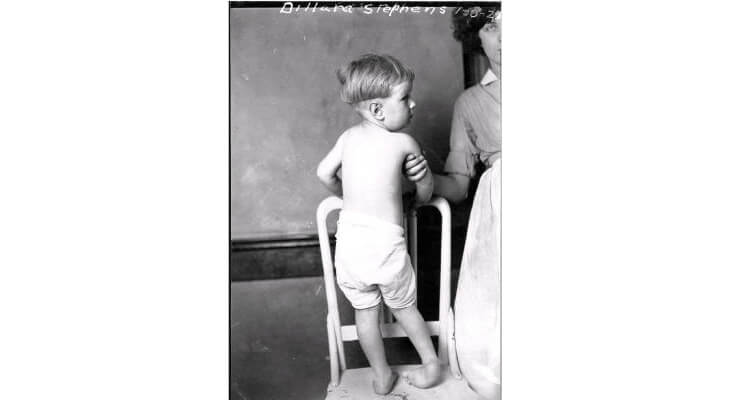 Did you know that Norton Children's Hospital was the site of the nation's second infant heart transplant … or that the hospital was founded on the heels of the deadliest tornado in the city's history? You can learn about the hospital's 125-year history by visiting "Hope and Healing: Celebrating 125 Years of Norton Children's Hospital" at Frazier History Museum.
The 4,200-square-foot exhibit explores how the hospital has served the community in good times and in bad, all the while shaping the evolution and innovation of care for children and families. We'll explore the history on display at the Frazier in a series called "Stories of service."
The first patient: Little Radford
Hope and Healing: Celebrating 125 Years of Norton Children's Hospital
Interested in more history facts in a hands-on exhibit experience? "Hope and Healing: Celebrating 125 Years of Norton Children's Hospital" is at Frazier History Museum through Feb. 4, 2018.
When James Radford Duff, known to everyone as Little Radford, hurt his hip while jumping on a mattress at age 5, doctors tried to save it without surgery. Dr. Ap Morgan Vance, a founding physician of the hospital, set Little Radford's hip and leg in a cast and instructed him to use a crutch at all times.
Unfortunately, the cast was not enough. After Little Radford returned to the hospital from a brief vacation at home in Virginia, Dr. Vance frowned when he saw that the boy had a dangerous flare-up of tuberculosis in his hip. He prepared for surgery immediately.
Orthopedic surgery in the 19th century
Because anesthesia was not yet safe for children, surgery had to be done while Little Radford was conscious. His hip was packed in frozen salt water in an attempt to numb the tissue. Then the boy was given a shot of bourbon and held down by an assistant. Dr. Vance had no choice but to saw off part of the infected bone. We don't know what he did after that, but after a careful recovery, Little Radford left the hospital two years later, at age 7, tuberculosis-free and walking.
About the Frazier History Museum
The Frazier History Museum is located at 829 W. Main St. on Louisville's downtown "Museum Row." The Frazier is where the world meets Kentucky, bringing history to life for visitors through exhibits, artifacts and live performances every day. The Frazier is open Monday through Saturday, 9 a.m. to 5 p.m., and Sunday, noon to 5 p.m. For more information, call (502) 753-5663 or visit fraziermuseum.org.
---