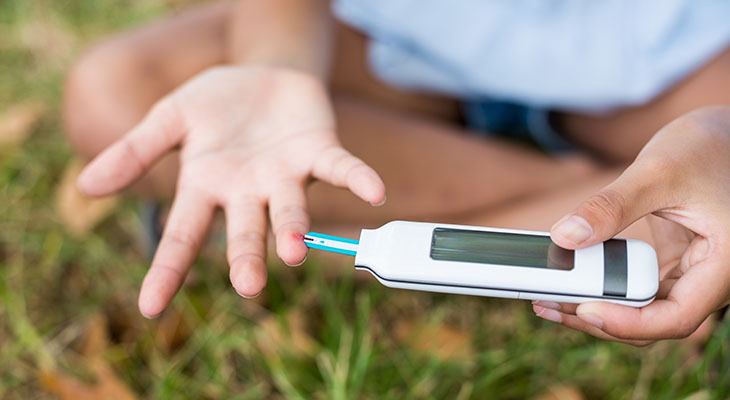 Summer can be a fun time for kids: time spent outside, vacations, day trips and so much more. The fun can disrupt a child's normal routine, however, which can make managing blood sugar difficult for kids with Type 1 diabetes. How can parents help their kids manage blood sugar during the summer months?
Blood sugar is affected by many things, including the foods you eat, insulin and stress levels, how well you sleep, the amount of exercise you get and your body temperature. For people without diabetes, the pancreas secretes more or less insulin to respond to these changes in the body. However, for people with Type 1 diabetes, the pancreas doesn't produce the needed insulin.
Children with Type 1 diabetes must program an insulin pump or inject insulin to accommodate these changes in the body. Summer presents challenges related to many of the factors that can affect blood sugar: Kids may want to stay up later, getting less sleep; they can be outside playing more, and may eat out more during day trips and vacations. Families can employ some strategies during the summer to help kids with Type 1 diabetes stay on track with their blood sugar management, including:
Wendy Novak Diabetes Center
UofL Physicians – Pediatric Endocrinology
Type 1 and Type 2 diabetes care
Join the Type 1 Club
It's a place for kids and teens with Type 1 diabetes and their families to turn for support, education and fellowship.
Be consistent with recording blood sugar. You may use a notebook or app to record blood sugar readings at breakfast, lunch, dinner and bedtime. If your child is staying up later than usual, make sure he or she tests blood sugar an additional time before bed, and adjust insulin as needed to help prevent a dip in blood sugar overnight.
Extra activity should be considered.Riding bikes, running and playing outside can make blood sugar levels lower. Children may need to reduce their insulin dose or eat more food to compensate for the changes.
Out and about?Keep an eye on food choices. On vacation and day trips, it may be difficult to know how much sugar and carbohydrates may be in meals at restaurants. Look to see if nutritional information is available online for the menu to help a child make a healthy choice. You also can ask the server about how a dish is cooked if you have questions.
Encourage your child to wear a medical ID. A necklace or bracelet that identifies the child as having diabetes can help in case the child needs immediate medical treatment and you are not present.
Keep supplies with you and safe. Summer schedules can be on-the-go, so children should be in the habit of keeping their supplies with them. For overnight sleepovers or trips, be sure to pack extra insulin, insulin pump, sensor and glucose meter supplies.  Also, insulin and glucose meters should be kept safely at room temperature. If you know you're going to be outside for an extended time on a hot day, you may want to keep a cool pack with your diabetes supplies.
---