According to pediatric pulmonologists, hospitalizations for asthma, even for children with mild asthma, increase during the spring and fall.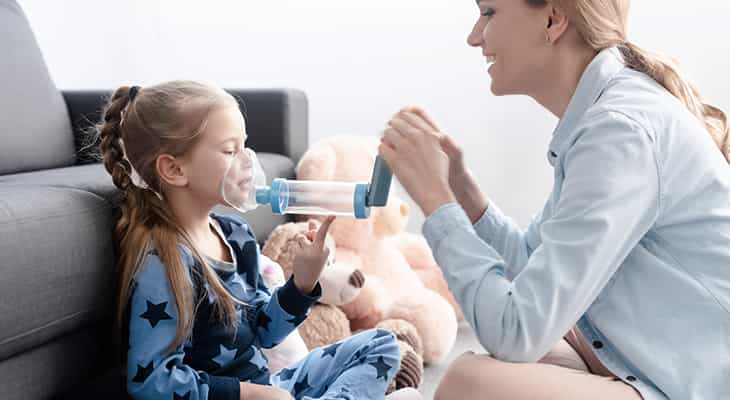 Spring can be an exciting time, filled with warming weather, the end of school, graduation season and much more. We know it can be a tough time for children with allergies; but what about for children with asthma? Does asthma get worse in spring?
Spring brings many asthma triggers
There are spikes of hospitalizations and emergency department visits for children with asthma, even those with mild asthma, during the spring. This can be attributed to many asthma triggers in the environment as the weather begins to warm up.
Just like in the fall, pollen runs rampant in spring. Pollen is a potent asthma trigger for many that, when inhaled, can cause inflamed airways and asthma attacks. Trees begin to bloom and release pollen in March and April (and as early as February for some states, including Kentucky), then grass pollen begins to peak in May and June. May can be a tough month because both grass and tree pollen seasons overlap during that time.
Spring also brings with it unpredictable weather and associated conditions, from thunderstorms to yo-yoing temperatures, levels of humidity and barometric pressure. A study from the Annals of Allergy, Asthma & Immunology showed that changes in temperature and humidity, not necessarily the levels themselves, triggered asthma attacks. The study controlled for pollutants and allergens in the air. The study's results showed that a 10-degree change in temperature and a 10% change in humidity were associated with an increase in asthma-related emergency department visits for children with asthma at least one to two days after the temperature and humidity fluctuations.
What can families do to prevent asthma attacks during spring?
Families can act to get ahead of springtime allergy issues. To help prevent spring asthma attacks, families can:
Keep an eye on weather forecasts and limit exposure: Before leaving the house, check the weather, air quality and allergen reports, paying close attention to any asthma triggers your child experiences. This can help you be proactive and plan –– high pollen day? Pollen is highest in the morning hours, between 4 a.m. and 10 a.m., so you may want to wait to enjoy outdoor activities until the afternoons on those days. As the temperatures rise, keep windows closed and instead use air conditioning to cool your home.
Follow your asthma action plan: If you know you're going to be out and about and potentially exposed to weather or allergens that trigger your child's asthma, keep your child's rescue medications on hand per your asthma action plan. Additionally, you should stay up to date with your child's medications and not let them run too low or be unavailable should your child need them.
Talk to your pediatric pulmonologist or allergist: If you notice changes in your child's asthma, make an appointment with their pediatric pulmonologist to assess what medication changes, if any, they may need. Your child's pulmonologist can update the asthma action plan to meet your child's current needs.
If your child struggles to breathe, seek care immediately: While it is a manageable chronic condition, 3,000 people die each year from asthma. Follow the actions specified in the red or danger stage of your child's asthma action plan.
Norton Children's Prevention & Wellness' Open Airways class is held monthly to provide information about asthma, including triggers, symptoms and how to detect early warning signs. Register for an upcoming class taught by a certified American Lung Association educator at NortonChildrens.com/Classes&Events.
---