The second infant to receive a heart transplant at Norton Children's Hospital continues to watch her health and take anti-rejection drugs.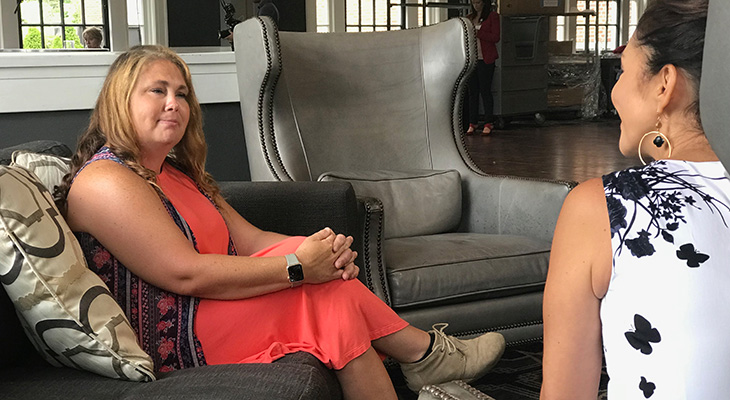 Infant heart transplants are never routine, but for a child who wouldn't otherwise survive a congenital heart defect, they've become much more common.
That wasn't the case 32 years ago when Leslie Keown of Franklin, Kentucky, was born. Transplanting the heart of a days-old baby was almost unheard of, but it was a lifesaving procedure for Leslie.
"The baby girl lives forever inside me, beating every day. She is still alive with a strong and beautiful heart beating," Leslie said recently, her voice filled with emotion as she spoke of her heart donor.
"Most infant heart transplants have median survival of only 20 to 22 years," said Joshua D. Sparks, M.D., heart failure and transplant medical director at Norton Children's Heart Institute, affiliated with the University of Louisville, and pediatric cardiologist with UofL Physicians. "Leslie has beaten these odds, as she received her heart soon after being born and is 32 years old now and healthy."
According to Dr. Sparks, Leslie is the second infant to receive a heart transplant at Norton Children's Hospital and possibly one of the oldest living infant heart transplant recipients in the country.
When Leslie was born, the left side of her heart hadn't formed properly, a condition known as hypoplastic left heart syndrome. Her mother was told that her daughter, at 9 days old, wouldn't make it through the night. That fear turned to hope around midnight when they got a call about a heart for her, and she went into surgery.
Norton Children's Heart Institute
Talk to a staff member about how your family can get quality heart care across Kentucky and Southern Indiana.
Leslie's transplanted heart came from a 9-week-old baby girl who died in a car crash. That same heart has kept Leslie healthy all of these years.
"Her parents must have taken very good care of her and her heart," Dr. Sparks said. "Leslie has taken very good care of her very important organ."
Stacey Keown, Leslie's mother, describes her daughter this way: "She is a miracle."
Leslie has never had contact with the donor family but would be open to a meeting.
"I would love to meet the family one day and let them hear the strong heartbeat of their daughter," Leslie said.
Leslie lives a very positive life and says her heart makes her unique and special.
Leslie makes sure to stay healthy and will continue to take anti-rejection medicines in order to protect her heart. She is living proof of a successful heart transplant as she went on to attend prom, high school and college graduations, and become a teacher. Her story gives hope to other heart transplant recipients. Norton Children's has performed more than 75 heart transplants since 1986.
"Live happy, love each other, live each day like it's your last one and love life to the fullest!" Leslie said.
---