The environmental services team uses disinfectants rated to kill coronavirus to clean patient rooms.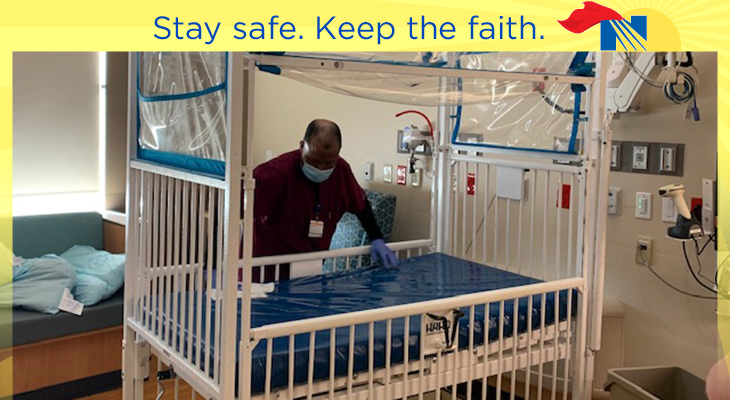 Norton Children's Hospital environmental services crews disinfect each patient room daily and perform a deep clean after each patient leaves the hospital.
The strict regimen between patients includes disinfecting furniture and surfaces such as bedrails, bedside table and over-bed table. The bed is cleaned top to bottom, and a five-step procedure is used to disinfect the bathroom.
Before the next patient, rooms are inspected after cleaning, and germ-detecting adenosine triphosphate (ATP) tests are conducted randomly based on Centers for Disease Control and Prevention guidelines.
Cleaning a Norton Children's Hospital patient room
In addition to performing daily cleanings, Norton Children's Hospital environmental services crews take the following steps to clean a room after a patient is discharged.
Block the doorway with cleaning equipment to restrict access.
Use hand sanitizer and put on clean gloves
Privacy curtain is removed if needed. Trash and linen are bagged.
Gloves are removed, hand sanitizer is reapplied; clean gloves are put on.
Dust surfaces at shoulder height and above in a circular direction, ending at the door.
Disinfect bed — cleaning top to bottom, removing all tape.
Disinfect room — starting at the door, wiping high-touch surfaces and furniture.
Disinfect bathroom.

Clean bowl, flush, wipe handle and outside areas.
Use new bleach wipe if patient was infected with diff.
Clean handrails, light switch and trash can.
Clean sink.
Clean shower.

Remove gloves and use alcohol foam.
In higher-risk rooms: Remove gloves. Remove gown, then mask. Wash hands with soap and water.
Gather clean linen, drape over forearm, hold away from body. Make bed per standards.
Restock supplies.
Dry mop.
Wet mop, ending at the door.
Clean hands and put on new gloves.
Disinfect cleaning equipment.
Remove gloves, gel or wash with soap and water.
"The environmental services team knows how important its work is and takes great pride in it. We get to know the patients and their families, and our job is to protect them. We take that very seriously," said Chad Morris, director of environmental services at Norton Children's Hospital.
Added technology to keep kids safer
After a COVID-19 patient is discharged, the room gets a final dose of disinfectant with UV-C light. The ultraviolet light bathes patient rooms and other areas with strong doses of bacteria- and virus-killing energy. The light could burn skin and damage eyes, so is used in rooms only after staff and patients have left the area and the door is closed.
Since the COVID-19 outbreak, Norton Children's Hospital has acquired electrostatic fogging equipment for disinfecting hard-to-reach areas. Electrostatic disinfecting technology adds a positive charge to particles in the spray. As a result, the positively charged particles seek out negatively charged particles, spreading the disinfectant under objects, behind them and into crevices.
Norton Children's Hospital
Don't delay getting the care your child needs.
(502) 629-KIDS (5437)
Norton Children's Hospital uses Virex Plus, a disinfectant rated by the Environmental Protection Agency to kill the coronavirus as well as other viruses, bacteria and fungi.
Hospital-grade disinfectants can kill germs faster than supermarket wipes. Plus, our providers have the supplies they need on hand to carry out the cleanings between patients. Inventories of cleaning supplies as well as personal protective equipment are monitored daily.
COVID-19 patients and those suspected of having the virus are treated in separate areas.
---