Father's experience at children's hospital in 1940s teaches daughter to never surrender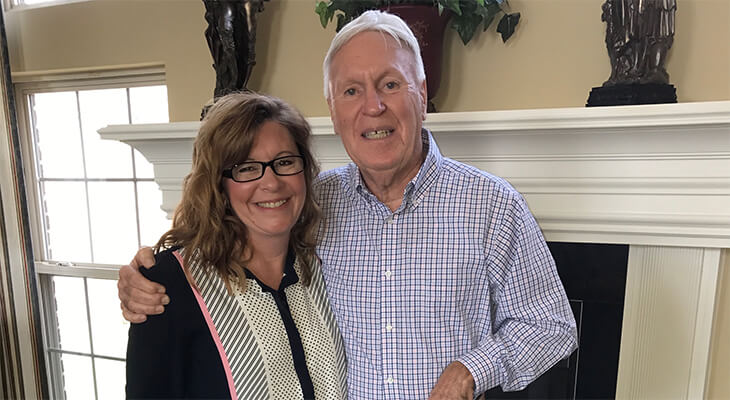 Jill Bennett has never stitched a wound, prescribed a medication or explained a medical condition. She isn't a doctor or a nurse. Nevertheless, she is confident that her job in medical records makes a difference for families who come to Norton Children's Hospital.
"I don't see patients, but I do see their records," Bennett said. "I know when a pregnant mom gets to go home with a baby that wasn't expected to live through delivery."
As a mother of two who returned to full-time employment almost three years ago, Bennett loves being part of a place where such triumphs are common. After completing an associate degree in health information management in 2014, Bennett had an abundance of job options among Louisville's health care providers — but Norton Children's was always her end goal.
When she landed a job in the hospital's medical records department, it meant much more than just a chance to practice in her chosen field. Bennett considers her job a form of giving back for the hospital's role in caring for her father, Larry Faith, when he was a child.
Faith was 4 years old in the mid-1940s when he was diagnosed and treated for polio at the children's hospital, prior to the discovery of a vaccine. During the 1940s and 1950s, a polio diagnosis was a parent's worst nightmare. More than 500,000 children either died or were paralyzed by polio during those decades.
Now 77, Faith considers himself one of the lucky ones, despite the permanent paralysis polio caused on his left side. Faith's mother didn't expect him to walk, but his grandfather and uncles had other ideas.
"I was told that they worked with me considerably to get me to be as mobile as I could possibly be," Faith said.
'I'm going to be as useful as any other person out there'
Recuperation delayed his start in school by a year. Beyond that, Faith was hardly fazed by polio's effects. If kids made fun of him in school, he laughed it off and went on his way. He played sports, excelled in academics and kept up with classmates in every way.
Faith never thought of himself as different or disadvantaged, but that didn't change how others regarded him. Not long before high school graduation, one of his grandmothers predicted a bleak future.
"Well, Larry, you're crippled so you won't be able to do much," he recalled her saying. "Your parents will take care of you."
His grandmother's low expectations galvanized Faith for life.
Norton Children's celebrates 125 years
What's your favorite Norton Children's memory? How has our work made a difference for your family? Help us capture 125 years of passion, love and miracles that make Norton Children's what it is today.
"I decided there and then: That is not going to be my life," he said. "I'm going to be as useful as any other person out there, whether I have a physical handicap or not."
Despite being partially paralyzed, Faith treats polio as a blessing. It taught him to work harder and to persevere when he wanted to accomplish something.
"Aside from having my family, polio was the best thing that ever happened to me," he said. "I was determined that I was going to have a good career and be able to do something with my life."
His determination paid off. Faith put himself through college, earned a business degree at Indiana University and built a successful career in technical sales. Eventually, he started a business that sells products for manufacturers of polyurethane plastics — a business he still runs today.
Bennett says her father's attitude has had a positive downstream effect on his family, too.
"My 16-year-old daughter loves to encourage her teammates when they get down by telling them, 'You know, my grandpa doesn't walk very well, but he still played baseball. We can do this,'" Bennett said.
Dad's perseverance infuses her work
Whenever Bennett feels discouraged, her father's example reminds her not to complain or surrender — no matter how tough the challenge.
As a child, Bennett never thought of her father as having a disability.
"Even today, if someone mentions it, I have to think about it because that's not the man who mows the yard, travels and plays golf," she said. "Since I was old enough to define the word, my dad has been my hero."
Knowing that her father survived a disease that took so many lives influenced Bennett's decision to pursue a career at Norton Children's Hospital.
"I knew I wanted to work for the organization that gave him life because essentially, they gave me life," she said.
Bennett describes Faith as a strong man and a caring dad. He doesn't judge people for what they are on the outside. His perseverance, the care he received and the mentors he had decades ago made an impression on Bennett. It infuses her work with a sense of purpose.
"I wasn't the best kid in the world, but I want my work to honor my dad and continue his legacy," she says. "When I had to opportunity to do that at Norton Children's, I knew that's what I wanted to do."
---