Norton Children's patient Carter Alvey has sights on U.S. Paralympic Soccer Team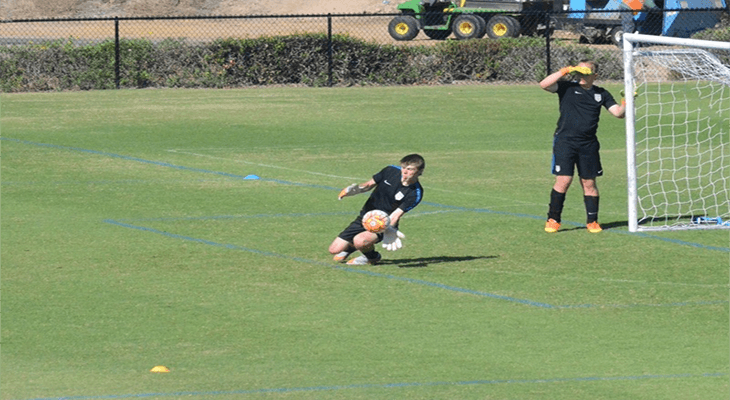 It is a hot July day in Bardstown, Kentucky, and Carter Alvey is working up a sweat on the Bethlehem High School soccer field. Of course, Carter, a senior goalie, has always had to work harder than his teammates.
Carter was born with cerebral palsy, a neurological disorder that primarily affects body movement and muscle coordination.
By the time he was 6 years old, Carter had already had two major surgeries. One was a selective dorsal rhizotomy, which relieves certain types of abnormal muscle tone. The other a procedure involving tendons in the lower leg and lengthening the Achilles tendons.
Laura K. Jacks, M.D., pediatric orthopedic surgeon with Norton Children's Orthopedics of Louisville, performed the surgery on Carter's tendons. She has been his orthopedist ever since.
"The ankle surgery takes half of an overly tight tendon that pulls the ankle inward and moves it to the outside of the ankle to pull it outward," Dr. Jacks said. "At the same time, we lengthened Carter's Achilles tendons to help his heels come down to the floor. He wore casts after the surgery for a month and then required a lot of rehab."
By the time of his surgery, however, Carter had already fallen in love with soccer.
"Carter started playing soccer at the YMCA when he was about 4," said his mom, Kandi Alvey. "He loved it from the first practice. He even played with two casts and braces on his legs following his surgery."
RELATED: Mia Hamm's advice to high school athletes
"I played other sports, but I always liked soccer the most," Carter said. "I guess my love for the game drove me to work harder at it, and I excelled for someone with my limitations. I've never skipped a season."
Overcoming adversity leads to new heights
Fast forward more than a decade. Carter has continued to dedicate himself to soccer and has made the varsity team.
In October of his junior year, Carter saw a recruitment ad for players for a possible U.S. Youth Paralympic Soccer Team. After talking to his mom, Carter emailed the coach, Stuart Sharp, and almost immediately received a reply asking for a scouting video and other information.
Within two weeks, Carter was at the first Paralympic soccer camp in California.
ALSO: Fidget spinners: Are they a tool or a toy?
"Camp was incredible," Carter said. "I haven't been around many other people my age that are like me — that understand the challenges. At camp, there were athletes from 14 to 20 and from all over the country who had to work just as hard as I do. It was cool to see how everyone there handled their issues. There are four or five of us who still keep in touch.
"My teammates and friends at home have always been accepting and supportive, but they can't truly understand what my life is like."
Upon returning home to Kentucky, opportunities continued to present themselves. Carter was connected to Clemson University, which has a leading Paralympic soccer club.
"If I'm accepted," Carter said, "I may be able to play soccer for one of the best collegiate clubs out there. They are preparing for the world championships in September right now."
Let us help
Need help finding an orthopedic surgeon for your child?
Inspirational relationships
Where does Carter get his drive?
He credits his parents, Kandi and Dennis, for always encouraging him to pursue his dreams. He also is grateful for his high school soccer coach, Jody Spalding, who has boosted his confidence by never treating him any differently than any other player.
He is especially grateful for Dr. Jacks — not just for her surgical assistance, but for her belief in him.
"I always look forward to my physicals," Carter said. "I like telling her what I'm doing, and she doesn't act amazed that I can do any of it. It is like she knew I could all along. It's like she knows what you're capable of, so she expects it from you."
Dr. Jacks' admiration for Carter is equally lofty.
"Carter is more than just a surgical success and more than just a good soccer player," she said. "He is a terrific person with an internal force driving him that will never stop. He will have success at everything he does. There is no end in sight to what he can accomplish."
---