Teen with hypertrophic cardiomyopathy transforms adversity into awareness
Who can say that 15-year-old Ella Beames' impulse to make the most of every moment is any stronger than the next person's? Even Ella doesn't know for certain. All she knows is that it's been there since 2011, when she suffered the first of five sudden cardiac arrests that could have taken her life.
As Ella entered her third-grade classroom, she collapsed. Deborah Rivera, principal at Field Elementary School in Louisville, used CPR to revive the unresponsive 8-year-old.
Ella was immediately rushed to Norton Children's Hospital, where she was diagnosed and treated for hypertrophic-cardiomyopathy (HCM), a condition that causes the heart muscle to thicken, and, as in Ella's case, contributes to the increased likelihood of life-threatening arrhythmias.
Ella has transformed her heart challenge into an opportunity for gratitude — to observe life and to reflect on what's important.
"It's made me want to be an advocate for so many things that need funding and awareness," Ella said. "Without that, I probably wouldn't have been able to get the treatments I've had."
Ella's mother, Theresa, says the agony of seeing her only child suffer a serious illness is offset by an unexpected gift.
"I think we're fortunate to be in a space where we don't want to waste any time," Theresa Carpenter Beames said. "The real gift is our appreciation of the moment, the people with whom you spend your time and how you give of yourself when everything is threatened."
Clarity isn't the only benefit Ella has reaped from life with a heart condition. She has already met her heroine, Jennifer Lawrence, not once but twice. Through the Make-A-Wish Foundation, Ella first met Lawrence in 2014 when the Louisville native was filming scenes for the third and fourth installments of the "Hunger Games" series.
She later connected with Lawrence at the Frazier History Museum, where the actress was hosting a fundraiser to benefit her charitable foundation.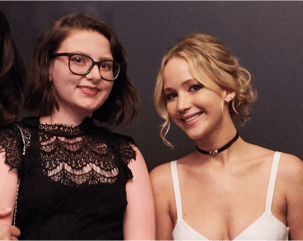 Photo courtesy of Clay Cook/Louis Tinsley
As a little girl, Ella found courage to deal with her illness through Katniss Everdeen — Lawrence's "Hunger Games" character. Adopting Everdeen's interests led Ella to try a sport that her doctors consider fair game despite her heart condition.
"When I started participating in archery, I realized how therapeutic is was," Ella said. "I felt like I could let my emotions go and put them into archery in a calmer way."
Now a teenager informed by a life-or-death experience, Ella takes her inspiration directly from the actress. Her only disappointment in meeting Lawrence is that she hasn't been able to adequately express her gratitude.
"I really wanted to thank her in person for all she's done to change my life as a whole," Ella said. "She's such a generous, courageous and kind human being. She just mirrors what I want to be. If she reads this — well, there."
Ella is inspired by the pediatric heart specialists at Norton Children's Hospital who cared for her.
"I think getting a medical degree may be a real option for me because I so admire the doctors and nurses who have made such an amazing difference in my life," she said.
"We are so incredibly lucky in Louisville to have Norton Children's Hospital as a premier health care resource for families," Theresa said. "We're there often and, at every point, every time, we trust that we will always get the top-level of care."
Ella regularly sees Joshua Sparks, M.D., pediatric cardiologist with Norton Children's Hospital and University of Louisville Physicians, for her ongoing heart care.
"Ella is extremely fortunate to be surrounded by people to help manage her underlying condition, starting with her parents, who are devoted, caring and thoughtful advocates for this terrific young lady," said Christopher L. Johnsrude, M.D., pediatric cardiologist/electrophysiologist with Norton Children's Hospital and UofL Physicians, who cared for Ella when she was initially diagnosed.
Dr. Johnsrude praised Ella's school principal, who recognized her first cardiac arrest and provided critical CPR.
"As part of Ella's medical team, we strive to support Ella and her family with compassionate expertise so she can pursue her big dreams of helping others," he said.
Snow Ball tickets on sale June 15
Snow Ball tickets on sale June 15
The Snow Ball is presented by Konica Minolta and is part of the Festival of Trees & Lights presented by Republic Bank. It features a cocktail hour, silent auction, gourmet meal and dancing to the music of Galaxy in Louisville's newest hotel destination.
Saturday, Nov. 17, 2018
6 p.m. to midnight
Omni Louisville Hotel
Tickets are $5,000 for a corporate sponsor table of 10 or $450 each. Sponsorship opportunities are available. Tickets go on sale starting June 15.
2018 Snow Ball gala will benefit Jennifer Lawrence CICU
Black-tie event will be held at new Omni Louisville Hotel
One of Louisville's most anticipated holiday events, the Snow Ball, benefits Norton Children's Hospital. This year, funds raised from the gala will go to the Jennifer Lawrence Cardiac Intensive Care Unit (CICU).
"This project is extremely important to the children in Kentucky and Southern Indiana," said Lynnie Meyer, Ed.D., R.N., CFRE, chief development officer, Norton Healthcare. "By supporting Norton Children's, we can give kids with heart conditions an even better chance."
The Lawrence Family Foundation has been extremely generous in establishing the CICU. The foundation donated $2 million in 2016 to establish the Jennifer Lawrence Cardiac Intensive Care Unit. In addition, the foundation challenged the community to raise an additional $2 million to support construction of the unit.
The Jennifer Lawrence CICU will feature private rooms dedicated to children recovering from heart procedures , including heart transplants; heart failure; and other conditions requiring intensive care. The 14-bed unit will offer space for families to stay with their children. It will be staffed by additional specialists with cardiac critical care training and experience, dedicated nursing staff and other professionals focused solely on heart care. Research has shown that a unit such as this can improve a child's recovery.
Norton Children's Hospital, working with specialists from University of Louisville Physicians, is home to the only pediatric heart failure and transplant program in Kentucky, offering services to children from the commonwealth, Southern Indiana and beyond. More than 5,000 children a year visit Norton Children's Heart Institute for specialized heart care. The institute performs more than 17,500 procedures annually that include open heart surgeries, catheterizations, electrophysiology and noninvasive tests such as echocardiograms. The institute is part of a large renovation currently underway at the hospital.
---