CAR-T cell therapy reprograms the child's immune cells to recognize and kill acute lymphoblastic leukemia cells that have resisted chemotherapy.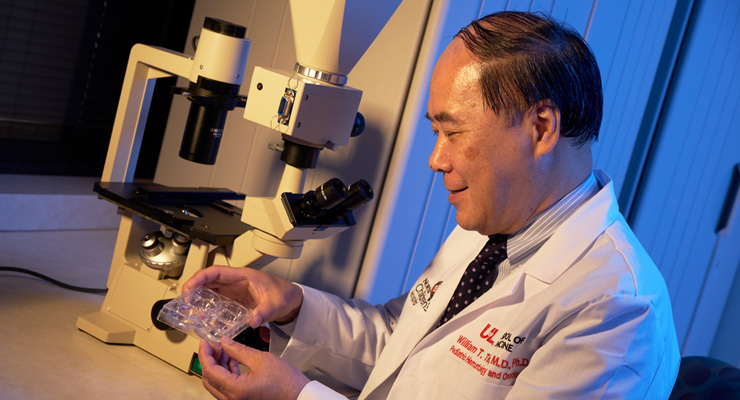 Kids with leukemia in the Louisville area soon will be able to get the next big advance in treatment, a revolutionary immunotherapy known as CAR-T (chimeric antigen receptor T cells) therapy.
In CAR-T therapy, a leukemia patient's own immune cells are collected and genetically reprogrammed before the cells are reinfused into the patient. The patient's reprogrammed immune system will then recognize and kill acute lymphoblastic leukemia (ALL) cells that have resisted conventional chemotherapy.
According to William T. Tse, M.D., Ph.D., director of the Norton Children's Cancer Institute Pediatric Blood and Marrow Transplant Program and a pediatric hematologist/oncologist with UofL Physicians – Pediatric Cancer & Blood Disorders, the treatment could be available as early as this fall.
"We are creating the necessary environment at Norton Children's Hospital to provide this treatment to our patients safely and effectively," Dr. Tse said.
CAR-T therapy effective for resistant, recurring leukemia
Milder cases of acute lymphoblastic leukemia usually respond well to chemotherapy. But if a child doesn't respond to chemotherapy or the cancer returns, CAR-T therapy would give patients a new treatment for this more severe form of the cancer. Traditionally, doctors have had few options in these severe cases.
According to Dr. Tse, the CAR-T therapy response rate for resistant or relapsed acute lymphoblastic leukemia has increased from a very low percentage to 80% to 90%.
The "T" in CAR-T stands for T cells, a type of killer cell in the immune system that destroys cancer cells. Normally, patients' T cells may not recognize leukemia cells or are ineffective in killing them. When the T cells are reprogrammed to express the CAR protein on the cell surface, the CAR protein enables the T cells to seek out and destroy the leukemia cells.
"It is like a magic bullet, a homing device to allow the T cells to find and kill the leukemia cells," Dr. Tse said.
Minimizing CAR-T therapy side effects
Because killing the leukemia cells leads to tissue inflammation, CAR-T therapy can cause serious side effects. A child can experience very high fever, respiratory distress, a drop in blood pressure or damage to the brain. It is critical that the medical team is capable of recognizing these side effects in a timely manner and provide appropriate treatments.
For that reason, Norton Children's Hospital has been making meticulous preparations for CAR-T immunotherapy, training medical and nursing staff on the fine points of CAR-T therapy and developing new clinical guidelines in the management of its complications.
Pediatric Blood and Marrow Transplant Program
Contact Norton Children's Cancer Institute, affiliated with the University of Louisville, to learn more about leading-edge treatments.
"These preparations are absolutely essential so we can bring CAR-T therapy safely to our patients," Dr. Tse said.
Only a limited number of hospitals in the country offer this cutting-edge treatment.
CAR-T immunotherapy first received U.S. Food and Drug Administration approval in 2017 for patients under age 25 who have hard-to-treat forms of B-cell ALL. Within two years, it rapidly has become an essential part of treatment for these forms of leukemia, according to Dr. Tse.
Using CAR-T cell therapy for more cancers
With CAR-T therapy, a child is first connected to a machine that separates white blood cells from the rest of the blood. Those white blood cells are sent to a laboratory, where they are genetically modified so the T cells will recognize and kill the cancer cells. The reprogrammed cells are then returned to the child's bloodstream.
Dr. Tse also is working in the laboratory to expand the types of childhood cancers that can be treated using this type of immunotherapy. Dr. Tse hopes to bring a clinical trial to Norton Children's Hospital using CAR-T therapy for acute myeloid leukemia (AML), another form of blood cancer that often is difficult to treat.
He also is researching CAR-T as a potential treatment for solid tumors. These include neuroblastoma and pediatric brain tumors. Solid tumors have been more of a challenge for researchers, because these tumors often are surrounded by a tissue environment that is unfavorable to CAR-T cells. Nevertheless, technological advances are being made. According to Dr. Tse, it is likely that clinical trials using CAR-T therapy to treat solid tumors will be more commonly available in the next three to five years.
Immunotherapy has opened up new possibilities in the fight against cancer.
"Every morning, the thought of developing new and effective CAR-T therapies makes me excited coming to work. It's a very rewarding experience helping to bring this innovative therapy to our patients," Dr. Tse said. "The hospital is very supportive of our effort and is committed to bringing effective CAR-T therapies to our patients."
---