Children are showing difficulties concentrating, irritability, restlessness, nervousness and feelings of loneliness.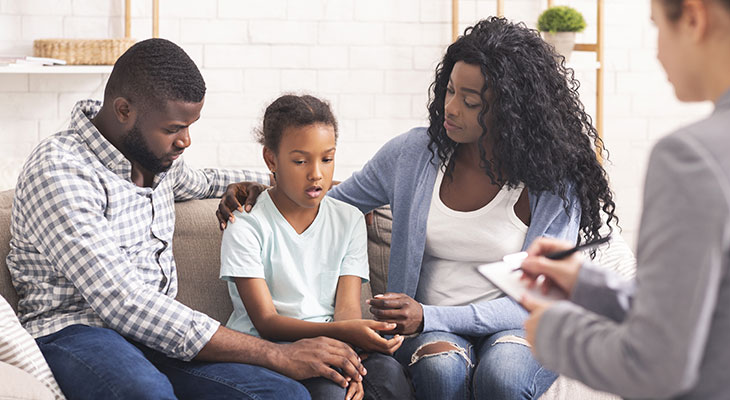 There are ways to help children and teens with anxiety, stress and fear resulting from the COVID-19 pandemic. Kids may feel anxious even if they or their families haven't had any direct exposure to the virus — they've had their school experience disrupted, and even the holidays were different.
"The pandemic is impacting nearly every aspect of a child's life," said Kristie V. Schultz, Ph.D., a pediatric psychologist with Norton Children's Behavioral & Mental Health, affiliated with the UofL School of Medicine.
As a result, children are showing difficulties concentrating, irritability, restlessness, nervousness and feelings of loneliness. Children also may experience sleeping difficulty, fatigue or nightmares, as well as poor appetite, discomfort and agitation.
It's important that children and their families seek mental health support if needed, according to Dr. Schultz.
"The impact on mental health can occur immediately, but can last over long periods of time. If left untreated, these psychological symptoms may have long-term health effects on patients and require treatments — adding to the cost burden of managing the illness," Dr. Schultz said.
Younger children are at greater risk because high levels of stress and isolation can affect their brain development, sometimes with irreparable long-term consequences, according to Dr. Schultz. Stress brought on by the pandemic can cause a new episode of mental illness or a relapse of a condition, and the effects could last months or even years.
How to help kids with anxiety
"Fostering resilience and providing support is immensely important. It's important for adults and families to model a positive psychological attitude. So, children observe adults and families, and that is how they are learning to cope," Dr. Schultz said.
To help manage anxiety, parents may want to limit exposure to media coverage about the pandemic. At the same time, they should explain the situation to children in an age-appropriate manner and answer their questions in a way that is transparent and supportive. Children thrive when they're safe and protected, when community and family connections are safe and stable, and when their basic needs are met. COVID-19 has made these goals more difficult for many families to accomplish. So during this time, it's important to ask how children and adolescents are feeling.
To foster stability, Dr. Schultz recommends that families create and enforce a schedule. This can include things like regular sleep and wake times, regular mealtimes and schooling hours, exercise or enjoyable activities, and social engagement. Social interactions can take place either in person, with safety precautions, or virtually. Social isolation can be a precursor to a number of mental health conditions, including depression, anxiety and suicidal behavior.
Emergency psychiatric services
For children and teens with a psychiatric emergency or crisis, call 911 or visit the closest emergency room.
At Norton Children's emergency departments, children and teens are assessed and evaluated by a behavioral and mental health specialist.
Suicide prevention and safety
If a child or teen reports any suicidal ideation, families should take their statements seriously. If they report any indication that they intend to harm themselves or someone else, or if safety cannot be maintained at home, families should call 911 or bring their child to an emergency department. Medical staff can determine if further treatment is needed. Treatment options are varied, but likely will include a safety plan.
A safety plan would cover such things as identifying adults the child can confide in, coping skills, ways to distract from or cope with thoughts about suicide, and what is important to the child — to keep them going on tough days. It also could include instructions on limiting access to potentially dangerous items at home or increasing supervision.
In addition to talking to trusted adults, children and teens can access a crisis hotline by texting "HOME" to 741741. Young people of color can text "STEVE" to 741741 for more tailored recommendations. For LGBTQ youth, the Trevor Project (TheTrevorProject.org) has a number of resources.
According to Dr. Schultz, it is critical that children and adolescents are aware of options for support during these unprecedented times.
---