In Eli's 23 months, his family has taken to thinking of him as having the strength of an elephant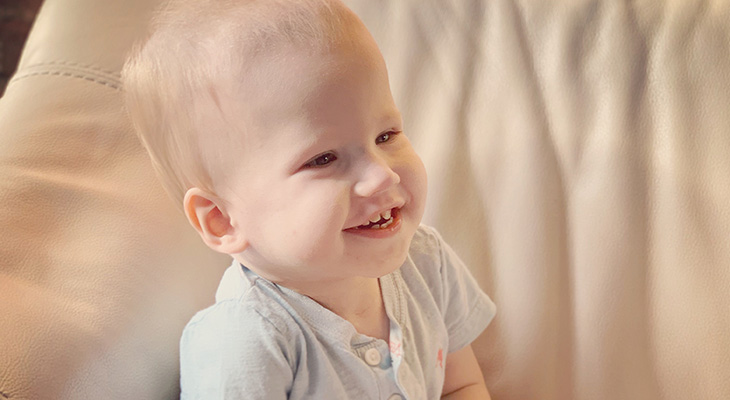 In Eli Alexander's 23 months of life, he has overcome a congenital heart defect with the help of a heart transplant. His family has taken to comparing his strength and bravery to an elephant's.
It only made sense that he should help unveil the name of the Louisville Zoo's baby elephant.
In a naming contest sponsored by Norton Children's, visitors to the zoo have been able to choose from three names winnowed down from a flood of nominations: Fitz, Rocket or Walt.
"We're excited that Eli could be part of this exciting announcement," mom Caitlyn Alexander said. "He has come so far, and the team at Norton Children's Heart Institute has helped us the entire way."
"The zoo is a place for families to spend time together, and being part of this naming initiative was a way in which we could be part of that," said Emmett C. Ramser, chief administrative officer at Norton Children's Hospital. "We spend so much time with many families in the hospital, and we're happy to see families like Eli's  out and living life to the fullest."
Getting to be part of this announcement on October 22, 2019 was a long road for Eli.
A long road for a 'Tiny Heart Warrior'
Eli was born Nov. 6, 2017, at Norton Hospital, months after parents Nick and Caitlyn learned of his heart defect during a pregnancy ultrasound at six months. Eli's condition would be so severe when he arrived that plans were in place for his first surgery days after he was born.
His parents made arrangements to deliver at Norton Hospital, rather than in Elizabethtown, Kentucky, near their home. At Norton Hospital, Eli would have the resources he'd need close by at Norton Children's Hospital.
Eli arrived with hypoplastic right heart syndrome, a congenital heart defect in which the right atrium and right ventricle are underdeveloped. The pediatric heart specialists at Norton Children's Heart Institute, affiliated with the University of Louisville, changed the plan. Rather than having surgery to repair the condition, Eli was placed on the heart transplant list just 11 days after he was born. He quickly earned the nickname "Tiny Heart Warrior."
Under the watchful eyes of the hospital's physicians and staff in the "Just for Kids" Critical Care Center, Eli grew while awaiting a new heart. He was strong enough to breathe on his own for the first time on Christmas Eve. His family rejoiced at the sound of his cry. But within a few days, they were rallying around him as his vital signs grew weak. He had to be put on a ventilator just two days later.
Within a few weeks, as Eli was continuing to fight, physicians recommended he be placed on extracorporeal membrane oxygenation (ECMO). Norton Children's Heart Institute has been recognized as a Center of Excellence in this advanced life support technique since 2012. ECMO supports a patient's heart and lung function, allowing the body to rest and gain strength.
After a brief time on ECMO, Eli made a comeback and fought his way through in true warrior fashion.
Norton Children's Heart Institute, affiliated with the University of Louisville
At 4 months old, on March 9, 2018, Eli received a second chance. He was given a heart from a donor.
Eli spent three more months in the hospital as he started breathing on his own and gained weight.
Going home
Staff, physicians and family gathered for a party in Eli's honor on May 14, 2018. The transplant farewell party provided an opportunity for staff to encourage the family.
"It has been a long road for him and his family," said Deborah J. Kozik, D.O., pediatric cardiothoracic surgeon with Norton Children's Hospital and UofL Physicians – Cardiovascular and Thoracic Surgery. "Thankfully, through a lot of work from a lot of people, coupled with the incredibly generous donation from a family who lost their child, Eli has a second chance."
---