It started as a cough, progressed to pneumonia and kept getting worse. Now a college freshman, he's planning to dance in a fundraiser for the hospital that treated him two years ago.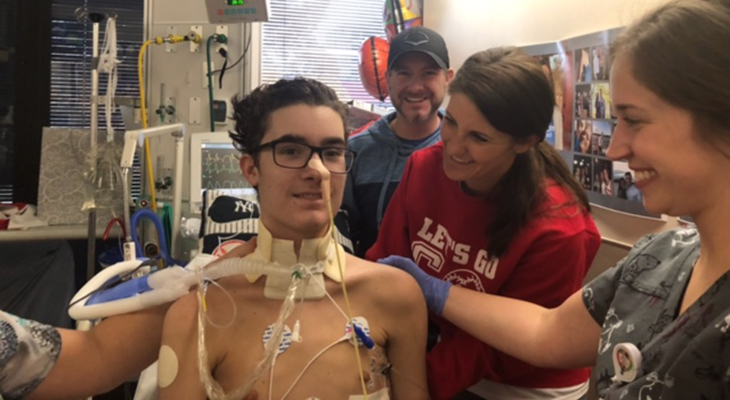 Two years ago, 16-year-old Grant Oller had a slight cough the morning after attending a dance with friends. The cough got worse, and after he felt exhausted and developed a sore throat, he went to his pediatrician.
His oxygen levels were so low that his pediatrician admitted him to a local hospital in Owensboro. The next day the high school junior and baseball player was diagnosed with bilateral pneumonia.
"We thought I would see an improvement after a few days in the hospital on antibiotics," Grant said.
But that didn't happen.
"I continued to weaken and my oxygen levels were dropping," Grant said.
A flight to Louisville for specialized pediatric care
As Grant's condition worsened, his parents sought pediatric specialty care at Norton Children's Hospital. The "Just for Kids" Transport Team helicopter arrived in Owensboro within about 40 minutes after the call came.
With Grant aboard the flight to Louisville, his parents made the nearly two-hour drive.
Shortly after arriving at Norton Children's Hospital, Grant seemed to stabilize before his condition took a bad turn. He had developed acute respiratory distress syndrome (ARDS), a severe condition that causes fluid to leak into the lungs, making it difficult to get oxygen into the bloodstream.
Grant's respiratory system was shutting down.
"I became unresponsive," Grant said. "Doctors made the decision, with the blessing of my family, to place me on a lifesaving device called extracorporeal membrane oxygenation (ECMO) and place me in a medically induced coma."
ECMO is a type of life support, taking over the work of Grant's lungs to allow for rest and healing.
"Grant was in a critical situation where the pneumonia he was fighting quickly turned into a very serious situation," said Scott G. Bickel, M.D., pediatric pulmonologist with Norton Children's Pulmonology, affiliated with the UofL School of Medicine. "This can be life-threatening and can get worse quickly. ARDS caused fluid to build in Grant's lungs, and oxygen was not adequately reaching his organs. It was a lifesaving decision by the critical care team to place him on ECMO."
The obstacles continued during Grant's 31-day medically induced coma, with several blood clots and a collapsed right lung.
"So many things had to go right for me to be alive today," Grant said.
Waking up and starting to figure out what happened
Grant was woken up a day after being taken off ECMO. He wasn't fully aware of his surroundings for a full week and had lost a third of his body weight. Grant had to retrain his body even to sit up, drink, eat and shower on his own while building back his strength.
"I began to slowly understand what had happened to me and why I weighed 100 pounds," Grant said. "My family was by my side every moment and kept complete faith. Just to hold their hands at times meant the world to me."
According to Grant, the nurses also were instrumental to his recovery.
"My nurses, including Taylor, Amy and Haley, would make me laugh and keep my mind on the positives to lessen the mental burdens and stresses of my journey," Grant said "They also made sure to push me in every possible way, which was critical to obtain my independence. They embodied a true health care hero, going above and beyond daily for their patient."
Thanksgiving in the hospital that year was a feeding tube — missing the turkey and gravy. But Grant was thankful to have his family by his side. Once Thanksgiving passed, the goal for Grant became very clear; he wanted to be home for Christmas. After the initial "why me" questions, Grant's dad pushed him to keep his faith and dig deep. He would overcome all of this with a full recovery with the right mindset. Grant and his mom would do daily devotionals to provide guidance and peace in his heart to keep pushing forward.
Grant improved enough to move to a rehab center for physical therapy. After three weeks, he was released to go home.
Norton Children's Pulmonology
Pulmonary specialists who are nationally respected for their expertise in the diagnosis and treatment of a wide variety of children's pulmonary disorders.
Home for the holidays
Grant arrived home days before Christmas 2018, and just in time for his dad's birthday.
"My gift to my dad that year was me," Grant said. "I was home to celebrate with him. It was an overwhelming and emotional time in my life. I had reached my ultimate goal to be home for Christmas."
Grant arrived home to friends and family welcoming with signs, calls and texts filled with well-wishes.
"The community of Owensboro was extremely supportive; sending care packages and hosting fundraisers," Grant said. "I was thankful for all the support and prayers during those three months."
After arriving home, Grant reconnected with his dog Elle, who was a pup before he was admitted to the hospital.
"It was a shock to the system to see Elle for the first time in three months," Grant said. "No matter the lapse of time she was still my sidekick and best friend. Christmas of 2018 was extra special for so many reasons."
Still receiving care
Grant continues to see Dr. Bickel every six months for follow-ups related to his lungs. He continues to do breathing exercises daily to increase his lung capacity. Now a freshman at Western Kentucky University and living on campus, Grant is diligent in wearing a mask amid the COVID-19 pandemic, practicing social distancing and taking extra precautions.
"Grant is a remarkable young man who worked hard and pushed himself daily during the recovery process, and he continues to push himself to do what is necessary to expand his lung capacity," Dr. Bickel said. "Grant has a great future ahead of himself with his determination and focus."
Giving back by dancing
After only a few weeks on WKU's campus, Grant heard about a student-led organization that supports Norton Children's Hospital, called Dance Big Red. He quickly became involved, sharing his story with the community and raising money through the organization's annual fundraiser to benefit the hospital.
"It was surreal to learn about a campus organization that supports Norton Children's — the very hospital that saved my life," Grant said. "Dance Big Red is now becoming a family for me on campus. Now, I'm hoping my own bad dancing will help save more lives."
To learn more about supporting Dance Big Red 2021 by sponsoring the virtual event or a specific dancer such as Grant, visit Virtual Dance Big Red 2021.
---