'Just for Kids' Pediatric Transport Team Patient Resources
Your child — our precious cargo — is traveling with the "Just for Kids" Transport Team. Here are some tips to help you find your way to the hospital.
In the event of an emergency, call the transport team at (888) 729-9111.
How to Reach the Hospital Your Child Is Going To:
Norton Children's Hospital
Emergency department (lower level): (502) 629-7225
Neonatal intensive care unit (NICU) (third floor): (502) 629-5835
Pediatric intensive care unit (also called the "Just for Kids" Critical Care Center) (fourth floor): (502) 629-5830
Norton Women's & Children's Hospital
Hospital Directions
Norton Children's Hospital
Norton Women's & Children's Hospital
When You Arrive at the Hospital
The safety and health of our patients is our top priority. Upon arrival at the hospital, please go to the information desk to check in. All parents, caregivers and visitors will receive a pass to wear. For safety purposes, passes must be worn at all times while on Norton Healthcare property. We encourage parents and loved ones to spend as much time at their child's bedside as they like. Parents and loved ones are welcome at Norton Children's facilities 24 hours a day.
Neonatal Intensive Care Unit Safety
Babies in the NICU are even more susceptible to infections than other hospital patients. In order to protect our tiniest patients from the spread of infection, staff will screen all visitors for illness, and the number of visitors will be limited.
NICU visitation guidelines:
All parents and visitors will need to present a photo ID.
For guests other than parents, a parent will need to complete a visitation card that gives permission for no more than six people to visit without a parent being present. For safety, no changes can be made to this permission list once it is completed.
All visitors will be required to fill out a weekly health questionnaire and have their temperature taken daily by NICU staff.
Siblings ages 3 and older are welcome to spend time with their new brother or sister, except during cold and flu season. Children ages 3 to 16 must provide an up-to-date immunization record.
Children who are not siblings are not permitted to visit the NICU unless they are over age 16.
Only two visitors per family will be allowed to visit the baby at one time.
At times, the NICU can become very busy, therefore only one visitor will be allowed at a time.
To protect the privacy and security of every baby, only parents/caregivers may receive information about the baby over the phone unless other arrangements have been made. Parents/caregivers will receive a security code, and information will be provided to the caller after the baby's security code has been given.
Transport – 5437
Need help?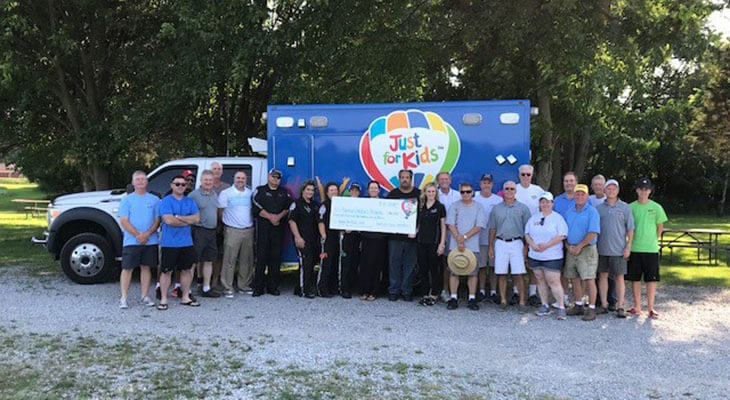 The 2018 Wings for Kids Radio-Controlled Airshow on June 2 and 3, 2018, raised a record amount — nearly $46,500 — far exceeding its goal of $40,000. The achievement was recently announced during a check […]
Read Full Story
The Miller family of Bowling Green, Kentucky, has a reason to celebrate Heart Month every day. Their daughter, Abigail, recently celebrated her first birthday — her "heartiversary" — with family and friends. A year ago, […]
Read Full Story
Upon introduction, Katie Savage seems shy and curious. However, the 10-year-old's larger-than-life personality can only be contained for a few short moments. "Katie is a very active fourth-grader," her mother, Beth, said proudly with Katie's […]
Read Full Story