Spine Surgery at Norton Children's Hospital
The neurosurgery and orthopedic specialists at Norton Leatherman Spine and Children's Orthopedics of Louisville collaborate in spine surgery and the treatment of spine injuries, deformities and diseases, including scoliosis and congenital spine disorders.
Our fellowship-trained, board-certified physicians have the sophisticated tools and skill to give you and your child a precise diagnosis and a treatment so your child can get back to being a kid.
Spine Surgery Specialists
More than 12,500 children in Louisville and Southern Indiana seek help from our specialists each year for orthopedic and spine conditions. These include everything from broken bones to sports injuries to spina bifida, hip reconstruction and scoliosis surgeries. Nearly half of these issues are severe enough to require emergency care. Pediatric specialists are essential in caring for growing bones, which require expertise to ensure that proper growth and development can continue.
Spine Surgery Expertise
Norton Leatherman Spine is known for embracing cutting-edge technology and techniques. In one recent case, an 8-year-old boy named Alex with severe syndromic scoliosis caused by a rare underlying genetic condition began having issues with one of his lungs. Rather than subject Alex to repeated surgical procedures, doctors implanted a new device that can be adjusted noninvasively through the use of magnets. This kept Alex healthier and resulted in a cost savings for his family.
Spine Surgery Services
Our complete orthopedic and spine services include:
Outpatient clinic services
Inpatient surgical services
Mobile X-ray unit available in the emergency room
State-of-the-art surgical services
Physical therapy
Occupational therapy
Neuroscience
Contact Us
Connect to the Norton Children's Hospital Neurology team
(502) 588-3650
Connect with Norton Children's Neurosurgery team
(502) 583-1697
Gracie Latkovski is sitting up straighter and breathing easier after undergoing state-of-the-art spine surgery. Her surgeons were able to be precise in her complex surgery by preparing with the help of a 3D printed replica […]
Read Full Story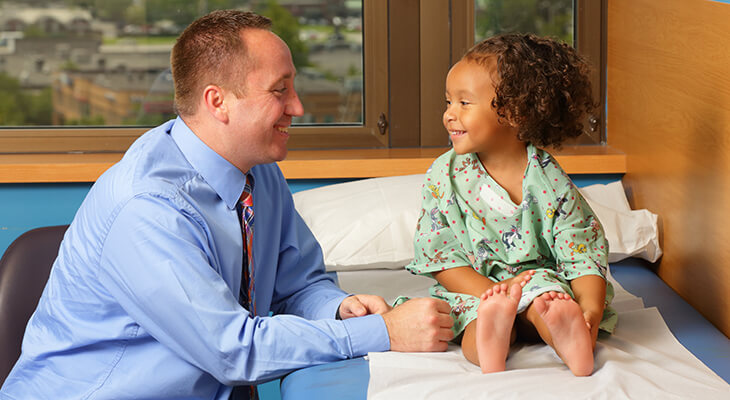 When many people think of shoulder issues, a professional athlete often comes to mind. But every year, thousands of babies in the U.S. are born with a brachial plexus injury. The brachial plexus is a […]
Read Full Story
Five years ago I was diagnosed with scoliosis while having a physical exam for high school athletics at Presentation Academy. At that point in my life, I didn't understand the severity of the situation. All […]
Read Full Story