Norton Children's Prevention & Wellness High Five Program
5-2-1-0: Follow These Healthy Rules Each Day
5 fresh fruits and vegetables to keep you healthy and well
Follow these tips to prepare fruits and vegetables safely:
When selecting fresh produce, look for signs of bruising or rotting.
Wash and dry all produce, even if you don't plan on eating the peel or skin.
Keep fruits and vegetables separate from raw meat, such as poultry and seafood.
For more information, visit the Centers for Disease Control and Prevention.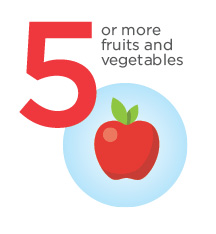 2 hours or less of screen time to help you stay alert and keep you charged
Here are some other activities to try at home:
Draw, paint or color
Read a book
Play a sport
Write a story
Play with friends, siblings, family members or pets
Swim
1 hour of activity to build strong bones and muscles, a healthy heart and a healthy lifestyle
Keep in mind:
Children need 60 minutes of moderate to vigorous physical activity daily.

Examples of physical activity are playing sports, games and family activities.
Raise the heart rate with regular bursts of movement, such as running, jumping, dancing or playing outside.

Stretch after exercising; hold each stretch for 30 seconds.
Drink water before, during and after physical activity.
Physical activity can be done throughout the day. Here are some ways you can add activity to your routine:
When watching TV, run in place, do jumping jacks or join in as you watch a fun video of others being active.
Go for a walk after dinner.
Play with a pet.
Do household chores.
Ride a bike or scooter, or go skating — always be safe and wear a helmet!
0 sugary drinks
Your body needs lots of fluids to stay healthy, but sweetened drinks contain added sugar your body doesn't need. Drink water or unsweetened sparkling water throughout the day to keep your body healthy and well hydrated. Add lemon slices, strawberries or your favorite fruit as a fun flavor changer. Milk is another smart choice that helps keep our bones and teeth strong.
Playlist: Healthy at Home
Wellness Hive Five Program