It's not the kids.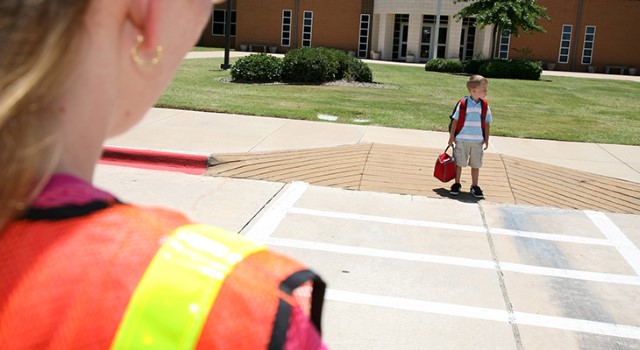 Heads up, kids — especially on your way to and from school.
Pedestrian deaths are on the rise nationwide, and according to a new study, the biggest increase is in school zones.
Safe Kids Louisville, a coalition led by Norton Children's Hospital dedicated to preventing injuries in children, is a partner with Safe Kids Worldwide, which studied behaviors in school zones. Safe Kids observed 39,000 pedestrians and 56,000 drivers in school zones in 2016 and recorded risks such as distracted walking and driving, unsafe speed limits and unmarked crosswalks.
The study found that teenagers are most distracted. About 80 percent of middle and high school students were observed crossing school zones in an unsafe manner. Distracted teens are most likely to be wearing headphones (44 percent) or texting (31 percent).
"In the last 10 years we used to worry about little kids running out chasing balls and things in the street and getting hit," said Erika Janes, R.N., Norton Children's Prevention & Wellness. "Teen pedestrians are actually our highest fatalities now."
Five teen pedestrians die every week in the United States, according to the report. In the past three years, Safe Kids researchers have observed distracted walking among high school students increase from one in five to more than one in four, and in middle school students from one in eight to one in six.
Researchers also observed drivers during drop-off and pickup. Nearly one-third displayed unsafe behaviors that endangered pedestrians, such as texting, double parking or blocking a crosswalk.
The key message: heads up, phones down.
"The distraction of people walking and driving is a huge issue in our community, and it's getting a lot of people hurt," Janes said.
See the full Safe Kids report here.
---