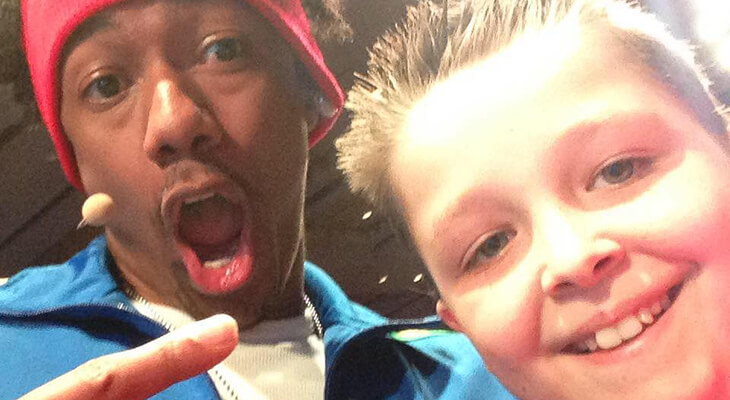 To look at Aiden Johnson today, you would never know the difficult roads the thriving 13-year-old has traveled as a two-time survivor of acute lymphoblastic leukemia (ALL). Lately, he's been traveling a different type of road.
Since 2016, Aiden serves as the Kentucky Children's Miracle Network Champion Ambassador. During 2016 and 2017, he and his family traveled to Washington D.C. and Orlando to attend the annual Children's Miracle Network conference.
"He is very proud that his face and story helped bring awareness to the awesome work being done at Norton Children's Hospital and being an example that great things can come from a bad diagnosis," said Aiden's mom, Gena Johnson.
At the time of Aiden's diagnosis at 3 years old, the cancer cells were multiplying so rapidly that his mother said he was 24 hours from death when he began treatment. He finished his last chemotherapy treatment on his sixth birthday in 2010.
Two years later, after experiencing unexplained bruising, they learned his cancer had returned. Three more years of chemotherapy and 16 radiation treatments, Aiden became cancer-free again at age 11. He still struggles daily with the havoc all his treatments wreaked on his body and his immune system. He recently underwent an outpatient procedure to help give his immune system a boost, so he can stay focused on being a happy, healthy teen who helps other kids forget they have cancer.
He's come a long way through his years of treatment at Norton Children's Hospital to now be a straight-A seventh-grader and band member at his middle school. Aiden and his parents, who both work full time, still find time to tirelessly raise awareness about childhood cancer and funds for Norton Children's Cancer Institute through Aiden's Legacy and the Children's Hospital Foundation. Their dollars go to pediatric cancer programs, services, equipment, research and staffing, as well as for gifting Legos to cancer patients at Norton Children's Hospital.
Aiden discovered Legos were a way for him to forget he had cancer, if even for a moment, during his treatment. Now he wants to provide that same gift to other kids. His family founded Aiden's Legacy in 2013 and have raised more than $260,000 to date through the Children's Hospital Foundation. They also host an annual holiday party for pediatric cancer patients and their families. This year's Hollywood-themed party at the Kentucky Science Center was the fifth, and nearly 500 patients, families and volunteers attended.
If you ask Aiden or his parents, they do it all for the kids. They think it is their life's calling to give back with Aiden's Legacy. They also have the support of a large network of extended family, volunteers and community members who help with their mission to do whatever it takes to help the kids.
Want to help?
Every minute, 62 children enter a Children's Miracle Network Hospital. You can make a difference locally by voting for Norton Children's Hospital in the Vote for Miracles contest! Children's Miracle Network hospitals can win a share of $100,000 donated by credit unions across the country if voted into the top five spots in the contest.
How to Vote for Miracles
Visit VoteForMiracles.org to vote now.
Enter your name
Select "Kentucky"
Choose "Norton Children's Hospital" as your hospital of choice
Come every day through Tuesday, Dec. 19, and vote again!
Be the difference. #VoteForMiracles!
---