How creative activities can help teens deal with stress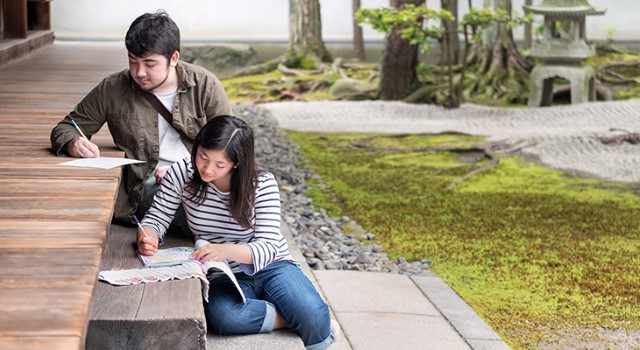 "The best use of imagination is creativity. The worst use of imagination is anxiety.
– Deepak Chopra
Think back to when you were a child and you used your imagination to build, explore and create.
Creative play is crucial to growth and development, and allows us to discover our natural creative talents. Unfortunately, as we grow into adolescence and ultimately adulthood, we tend to push aside opportunities to be creative — often to the detriment of our stress level.
When we allow our imagination to run free, it gives the mind a break from having to focus and concentrate on challenges in our lives. Engaging in a creative outlet can be a powerful way to cope with the responsibilities that come with being an adult.
So why not encourage teens to hone their creativity and imagination now as a means of coping with stress in the future? Research has proven that engaging in creative activities can:
• Increase positive feelings
• Boost problem-solving skills
• Improve physical health by lowering blood pressure and stress hormones
• Improve mental health by relieving negative thoughts, depression and anxiety
• Provide a healthy outlet to express feelings and emotion without having to find words
According to the American Psychological Association, teens' stress levels during the school year far exceed what they believe to be a healthy level. Nearly one-third of teens report feeling overwhelmed as a result of stress. It's up to parents to help teens learn how to manage stress and to model healthy stress management behaviors.
Encourage your teen to make time for creative activities. Have your teen carve out time at least once a week to engage in activities that he or she enjoys and that allow your teen to clear the mind. Maybe it's a childhood hobby that got shelved or discovering a new hobby, taking an art or music class, or trying an adult coloring book.
Here are a few more ideas:
• Writing: Purchase a journal (or have your teen make their own!) and fill it with thoughts, ideas, short stories, poems or even clippings and photos.
• Playing music: Dust off that old instrument your child once played or listen to a new type of music.
• Dancing: Freestyle dance to some favorite tunes or take a dance class. Many dance studios offer inexpensive salsa, ballroom or line dancing classes, to name a few.
• Needlecrafts: Knitting, sewing, crocheting or quilting may sound like hobbies from years gone by, but can be surprisingly relaxing and enjoyable to teens who like to use their hands.
• Building: Whether it's woodworking or putting together models, building things is a wonderful and rewarding creative outlet.
• Coloring: Adult coloring books have become wildly popular. Coloring can take place almost anywhere and can be done for a quick stress-relieving break, allowing the mind to rest from tasks that require concentration and focus.
• Photography: Smartphones with built-in cameras have turned everyone into a photographer. Whether using a smartphone or a traditional camera, encourage your teen to think beyond selfies to more artistic images of architecture, nature or still-life scenes. Try different filters or filtering apps to add more creative flare.
It's important to note that whatever creative outlet your teen chooses, it doesn't require mastery of a new skill or creating a work of art — the end result doesn't matter. The idea is to find an activity that your teen enjoys and that he or she can easily fit into their schedule.
Stimulating creativity may seem difficult at first, but cast doubts aside and approach it with an open mind. As in life, the possibilities are endless.
---