Nearly half of women who die by homicide in the U.S. are killed by a current or former intimate partner. A new study in JAMA Pediatrics shows that adolescent girls are at risk for intimate partner homicide (IPH).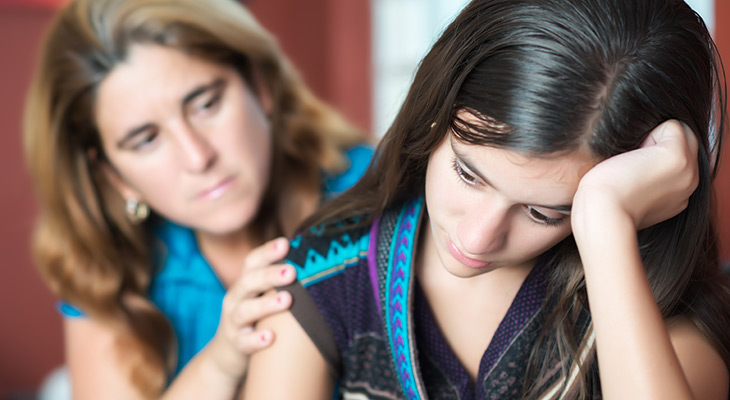 Nearly half of women who die by homicide in the U.S. are killed by a current or former intimate partner. Now a new study in JAMA Pediatrics shows that adolescent girls are at risk for this serious type of violence, intimate partner homicide (IPH). Intimate partner violence (IPV) is a serious issue that can lead to IPH — learn how to spot abusive behavior before it can escalate.

The study showed that of 2,188 adolescents killed between 2003 and 2016, 150 adolescents, age 11 to 18, were killed by current or former intimate partners. Of those IPH victims, 90% were female, and their average age was 16.8. Nearly 78% of the perpetrators were 18 years old and older, and nearly 63% were current intimate partners of the victim. Firearms, specifically handguns, were the most common weapons used in the crimes. The most common circumstances were that the victim was initiating a breakup or refusing to engage in a relationship with the perpetrator, as well as perpetrator jealousy of the victim.
What is intimate partner violence (IPV) and teen dating violence?
According to the Centers for Disease Control and Prevention (CDC), IPV is a serious preventable public health problem that affects millions of Americans and can last a lifetime. It often starts in the teen years, and can start as soon as people start dating or having intimate relationships. IPV that starts in adolescence is called teen dating violence. IPV, also commonly called domestic violence, can include four types of abuse perpetrated by a current or former partner — spouse, boyfriend or girlfriend, dating or sexual partner — including:
Physical violence: Examples of physical violence include being hit, kicked, beaten, choked, or burned on purpose or having a weapon used against you.
Sexual violence: Examples of sexual violence include rape, being made to penetrate someone else, sexual coercion, and/or unwanted sexual contact.
Psychological aggression/emotional abuse (including coercive tactics): This type includes humiliating or controlling behaviors.
Stalking: Stalking is when a person repeatedly watches, follows or harasses you, making you feel afraid or unsafe. A stalker can be someone you know, a former intimate partner or a stranger.
It's important to understand that some forms of IPV (for example, types of sexual violence, psychological aggression, including coercive tactics and stalking) can be perpetrated electronically through phone conversations, texting and social media. Examples can include excessive texting, monitoring a partner's phone or posting sexual pictures of a partner online without consent.
Data from the CDC's Youth Risk Behavior Survey and the National Intimate Partner and Sexual Violence Survey indicate that: Nearly 1 in 11 female and approximately 1 in 15 male high school students report having experienced physical dating violence in the last year, and about 1 in 9 female and 1 in 36 male high school students report having experienced sexual dating violence in the last year.
Getting help for teen dating violence
If you or someone you know is experiencing emotional, physical or sexual abuse, or if you feel like you are in danger, you can call or text the National Teen Dating Abuse helpline.
To be connected with a professional who can help:
Teens also can chat with someone for help at LoveIsRespect.org.
Teens often may think some behavior is a normal part of a relationship, such as teasing and name-calling. However, these behaviors can become abusive and develop over time into serious forms of violence, up to homicide. Teens often do not report their discomfort with unhealthy behaviors because of being afraid to tell family and friends.
How to prevent intimate partner violence — and what parents can do
Young people need to learn what both healthy and unhealthy relationships look like and the importance of speaking up if dating violence occurs. Dating violence does not discriminate — it can happen in any type of relationship, including a relationship that is serious or casual, monogamous or polygamous, short-term or long-term, gay or straight.
"Parents should have open and honest communication with children about relationships long before they start dating," said Rachel Mattaline, licensed clinical social worker with Norton Children's Medical Group – Broadway. "Parents can outline what healthy and unhealthy relationships look like — and what their child should do if they feel like a partner is hurting them in any way."
What does a healthy relationship look like?
According to LoveIsRespect, a project of the National Domestic Violence Hotline, there are four elements required for a healthy relationship: respect, equality, safety and trust (R.E.S.T).
Respect: Respect means appreciating your partner's viewpoints, opinions, beliefs and decisions — in general and regarding the relationship. It is also about setting and respecting boundaries and having open communication with your partner — as well as respecting your partner when he or she says "Yes," "No," or "Maybe."
Equality: Equality is about partners having the same amount of agency and power in a relationship — in making decisions together or developing agreements about how decisions in the relationship are made.
Safety: Safety includes knowing that your partner(s) will not do anything intentionally to hurt you physically, emotionally and psychologically. A partner should look out for you and your well-being.
Trust: Mutual trust is key to a healthy relationship. Mutual trust means that partners believe one another, rely on one another and are generally kind to one another. Trust is the understanding that you are not manipulated or being taken advantage of.
These elements of R.E.S.T., as a general rule, can be considered healthy and positive if they exist in the relationship without condition, exception, pressure, and you can respond or act in a way that makes you comfortable.
Signs of an unhealthy relationship
If R.E.S.T elements exist with conditions, exceptions, pressure, or if you feel that you can't respond or act the way you want, the relationship can be unhealthy. For example, an unhealthy version of respect might be talking about your partner to other people differently than you would if he or she were in the room. An example of an unhealthy version of equality may be one partner saying that it's only fair that one partner makes the decisions because he or she makes more money (or has a more stressful job or schoolwork, etc.), without discussion or coming to that agreement as a couple. Unhealthy safety could be one partner insisting the other doesn't go out alone, then follows the other partner without the person's consent. Unhealthy trust may look like a person asking to read the other partner's texts.
Other red flags of abusive dating relationships include:
Checking someone's cellphone, emails or social networks without permission
Extreme jealousy or insecurity
Constant belittling or put-downs
Explosive temper
Isolating someone from family and friends
Making false accusations
Erratic mood swings
Physically inflicting pain or hurt in any way
Possessiveness
Telling someone what to do
Repeatedly pressuring someone to have sex
What can parents do if they suspect their child is in an unhealthy or abusive relationship?
Your child or child's partner may start to exhibit some signs that can help you identify that there is something wrong with their romantic relationship, including:
Your child appears depressed or anxious.
Your child stops participating in activities he or she enjoys, including extracurricular activities, sports or other interests.
Your child stops spending time with family and friends outside of his or her partner.
Your child starts dressing differently.
You notice unexplained marks or bruises on your child.
Your child's partner emails or texts him or her excessively.
You child's partner is extremely jealous or possessive.
Your child's partner abuses other people or animals.
Norton Children's Medical Group
If you notice some of these signs, it can feel natural to react — but what may seem like the best way to stop the abuse may stop the conversation before it starts. Parents can:
Show concern while listening and giving support. If your child opens up to you about abuse, listen on the child's terms, without judgment. A child may feel ashamed of the situation, and may feel like you will be disappointed, blame him or her or overreact. A child may be afraid a parent won't believe the child or understand. You can show concern for the child's safety with affirmations such as, "This is not your fault," and "You deserve a relationship where you are treated with respect." Affirm that what is happening isn't normal.
It's crucial to talk about the behaviors that are problematic, not the person. For example, "I don't like that he/she texts you constantly to see where you are," vs. "They are a controlling person." Your child may still be in love, so it's important that you acknowledge and respect your child's feelings. Saying negative things about the partner may make your child less likely to come to you for help when he or she needs it most.
Resist the urge to give an ultimatum. Saying things such as "You need to break up right away or you're grounded," may have the opposite of the intended effect on your child. He or she may then return to the partner rather than walking away from the relationship. Leaving is also one of the most dangerous times for abuse victims — trusting that your child understands the relationship and the situation better than you do can help him or her leave safely.
Decide on a plan together. It's ultimately your child's decision to create a plan to leave an unhealthy, abusive relationship. You can help your child develop a plan by asking what steps he or she would like to take — if he or she feels uncomfortable speaking with you about the plan, help your child find additional support.
---