May 15, 2018, was a big day for Eli Alexander as he was prepared to be discharged from Norton Children's Hospital for the first time. But in his short six-month life, Eli has had many big days — as well as some scary ones.
Eli was born Nov. 6, 2017, at Norton Hospital with a congenital heart defect. His parents, Nick and Caitlyn, learned of his heart defect during their six-month pregnancy ultrasound. The couple changed their plan of delivering close to their home in Elizabethtown, Kentucky, and made arrangements to deliver at Norton Hospital. There, Eli would have the resources he'd need close by at Norton Children's Hospital.
By all accounts the pre-delivery plan was that Eli could potentially require his first heart surgery just days after he was born. But once Eli made his grand entrance, the plans quickly began to change.
Norton Children's Heart Institute
Our board-certified, fellowship-trained physicians, pediatric heart specialists and professional staff provide compassionate care with great skill required to diagnose and treat children with congenital heart defects, heart failure and acquired pediatric heart conditions. Children can get comprehensive, integrated care right here in Louisville. Norton Children's also has a wide reach throughout Kentucky and Southern Indiana, making it possible for children to receive the heart care they need as close to home as possible.
"Tiny Heart Warrior"
Eli was born with hypoplastic right heart syndrome, a congenital heart defect in which the right atrium and right ventricle are underdeveloped. This can cause inadequate blood flow to the lungs. This rare condition resulted in Eli being placed on the heart transplant list just 11 days after he was born. He quickly earned the nickname of "Tiny Heart Warrior."
The time between November and March had several highs and many lows as Eli grew in the pediatric intensive care unit (PICU). Under the watchful eyes of the hospital's physicians and staff, Eli was strong enough to breathe on his own for the first time on Christmas Eve. His family rejoiced at the sound of his cry. But within a few days, they were rallying around him as his vital signs grew weak. He had to be put on a ventilator just two days later.
Within a few weeks, as Eli was continuing to fight, physicians recommended he be placed on extracorporeal membrane oxygenation (ECMO). This advanced life support technique supports a patient's heart and lung function, allowing the body to rest and gain strength. Eli spent a brief period of time on ECMO, and, in true warrior fashion, made a comeback and fought his way through.
At 4 months old, on March 9, Eli received a second chance. He was given a heart from a donor.
Eli spent three additional months in the hospital after receiving the donor heart. He had many obstacles to overcome before he could go home, such as breathing on his own, being weaned off of sedation medications and gaining weight.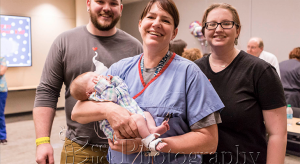 A second chance
In addition to Eli's to-do list, his parents and close caregivers had homework too. Everyone had to learn CPR and his parents were given a big red binder full of instructions, including directions and warnings, something they say was very intimidating at first.
"Eli has a very strict medication plan and will be on several monitors for the coming weeks and months," Nick said. "It can be overwhelming, but the doctors and nurses have prepared us and we are so excited to be going home."
Staff, physicians and family gathered for a party in Eli's honor on May 14. The transplant farewell party provided an opportunity for staff to encourage the family.
"It has been a long road for him and his family," said Deborah J. Kozik, D.O., pediatric cardiothoracic surgeon with Norton Children's Hospital and University of Louisville Physicians. "Thankfully, through a lot of work from a lot of people, coupled with the incredibly generous donation from a family who lost their child, Eli has a second chance and the opportunity to go home."
Eli was the hospital's first transplant patient of 2018. Physicians and staff with Norton Children's Heart Institute coordinated five transplants in 2017 and have performed three this year.
Photo courtesy of Bee Buck.
---