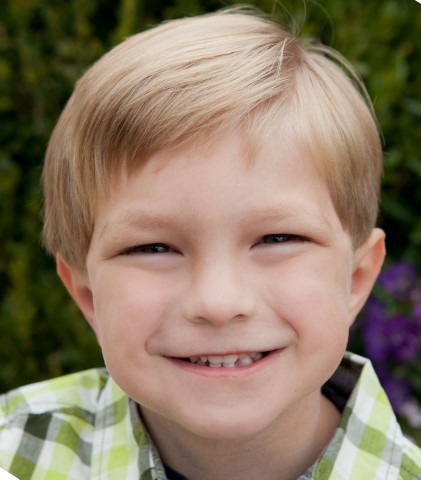 Hattie Haller of Louisville, Kentucky, wants to raise awareness about a condition called tethered spinal cord syndrome that can cause developmental delays and other symptoms in children. She is sharing the story of her 5-year-old son, Andrew, so that other parents can be aware of the signs to look for in their own children.
According to the American Association of Neurological Surgeons, tethered spinal cord syndrome is a neurological disorder caused by attachments of nonflexible tissue that bridge the tip of the spinal cord and the tailbone. This tethered tissue limits the movement of the spinal cord within the spinal column and causes the cord to be abnormally stretched.
Haller said that for Andrew, who underwent surgery to release his spinal cord in June 2014, the surgery has been life-changing. Andrew was born in December 2009. For the first year he seemed to develop normally, meeting all milestones on a normal time frame. That changed when he was 1 year old.
"He began having sensory processing delays," Haller said. "He became very sensitive to bright lights, excessive sounds and food textures. He also was experiencing speech delays."
At 15 months old, he began receiving speech and occupational therapy.
"We didn't really see significant improvement being made, but we kept going," Haller said.
Andrew was completely potty trained by age 2½. But at age 3, he began having urinary accidents. Haller and her husband, Roy, thought it was regression.
"But by age 4 it was still happening," she said. "He would be fine for a couple of weeks, then he would have several accidents in a row. We kept thinking he would outgrow it. We didn't know there was an underlying medical condition."
When Andrew began to experience occasional fecal incontinence, the Hallers pushed his pediatrician for answers. The physician ordered an MRI for Andrew, and the results showed an indication of tethered spinal cord syndrome. Andrew was referred to pediatric neurosurgeon Thomas M. Moriarty, M.D., Ph.D., Norton Neuroscience Institute. After further tests, Dr. Moriarty recommended surgery.
"Dr. Moriarty was meticulous about explaining what was going on with Andrew, how he knew what was causing Andrew's symptoms and what he would do to fix it. Once we met with Dr. Moriarty and felt his confidence, it was easy for us to make the decision to have the surgery to release the cord," Haller said.
Since his surgery, Andrew's symptoms have all but disappeared.
"He has endurance now," Haller said. "He used to be weak and couldn't walk very long. He had poor coordination and had trouble jumping. One day about three weeks after his surgery, he told me to watch him as he jumped. He said, 'There's nothing holding me down anymore!' In the past year he's caught up to be completely ready for kindergarten this year. Dr. Moriarty definitely changed Andrew's life. I'm very grateful that he's in Louisville and can do the surgery here at Norton Children's Hospital. I would recommend him to anyone."
"Tethered cord syndrome used to be considered rare," said Dr. Moriarty. "Not so much anymore. In Louisville, our pediatricians and pediatric subspecialists — especially orthopedics, neurology, urology, pediatric gynecology and gastroenterology — are very sensitive to the signs and symptoms of the syndrome. We are referred many more potential surgical patients than in the past."
Haller would like for all newborns to be checked for a sacral dimple, an indentation in the skin on the lower back, usually just above the crease between the buttocks. This distinguishing feature is frequently present on children who have a tethered spinal cord. If parents are made aware of it, they can watch for other symptoms, which can lead to earlier detection of the syndrome and prevention of further neurological deterioration.
Common symptoms of tethered spinal cord syndrome in children*
Lesion, fatty tumor, deep dimple, skin discoloration or hairy patch on the lower back
Back pain, worsened by activity and relieved with rest
Leg pain, especially in the back of legs
Leg numbness or tingling
Changes in leg strength
Deterioration in gait
Progressive or repeated muscle contractions
Leg deformities
Spine tenderness
Scoliosis (curvature of the spine)
Bowel and bladder problems
*Source: American Association of Neurological Surgeon
---